Tom Kreager, professor of Visual Arts at Hastings College, was invited to present at the National Art Honor Society induction ceremony recently at Skutt Catholic High School in Omaha, Nebraska.
Each year new members are inducted into the program with a guest speaker in the art field. Jocelyn Helen Polacek, the student president of the society, attended Hastings College's Open Space art immersion program over the summer, and invited Kreager to speak.
"I felt honored to be asked to present at their induction ceremony," Kreager said. "It was fulfilling to know that one of the students I taught had such a great experience she asked me to present."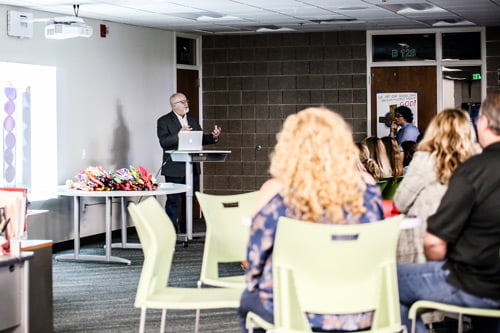 In his speech, Kreager encouraged each student to keep an open mind to opportunities that may come their way and to not be afraid to take opportunities that may lead them in unexpected directions.
"My lecture was about finding your joy in life and how I found my joy in teaching and art," Kreager said. "They saw images of my and former student's art and I told them how my life was changed by taking one class outside of my major in college."
Open Space is a summer art experience where high school juniors submit their art portfolio, and a select number are invited to attend. Students spend a week on campus working with faculty in the Jackson Dinsdale Art Center (JDAC), exploring different art studios each day.
Next year's Open Space event will take place June 2-8, 2019. High School juniors who want to apply need to have a high level of art talent and interest in studying art in college, have a digital portfolio to submit, have good academic standing and can submit letter of recommendation from an art teacher. Thirty-five students will be accepted into the 2019 program. More information can be found at www.hastings.edu/openspace.
Hastings College is a private, four-year institution located in Hastings, Nebraska, that focuses on student academic and extracurricular achievement. Hastings College has been named among "Great Schools, Great Prices" by U.S. News & World Report and a "Best in the Midwest" by The Princeton Review. For more, go to hastings.edu.