"Fire & Ice: The faceted textiles of MJ Kinman" is coming to the Jackson Dinsdale Art Center (JDAC) at Hastings College January 2-26, 2018.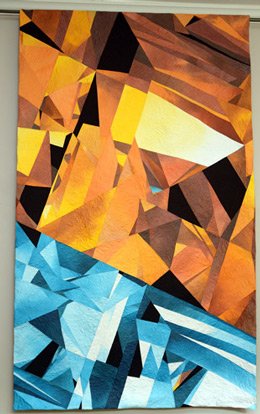 Artist MJ Kinman works with fabric and paint to create giant portraits of colored gemstones. "Inspired by the image of an actual stone, I study the gem to understand its personality," she said. "I work in a large format to convey the story of light and color encased within its facets."
The exhibition is featured in JDAC's main gallery, which is open Monday through Friday from 9:00 a.m. to 5:00 p.m., and Saturdays from 9:00 a.m. to 1:00 p.m. at 700 E. 12th Street in Hastings. The gallery is open to the public at no cost.
A reception and gallery talk with Kinman will be held in the JDAC on Friday, January 12, 2018, at 5:00 p.m. The reception and gallery talk are free and open to the public.
"I like to say I make the biggest diamonds in the world. Yet instead of working with the hardest substances on Earth, I work with the softest – cloth," Kinman said.
Kinman's work has been exhibited in galleries, museums and national juried competitions. Her work was featured in the August/September 2017 issue of Quilting Arts Magazine, the premiere publication for the art quilt movement, and she filmed three segments of Quilting Arts TV in September 2017 which will be aired on PBS stations across the country in 2018.
She's also entered into agreements with a major industry distribution company and a book publisher, and is developing a series inspired by America's National Gem Collection at the Smithsonian's National Museum of Natural History.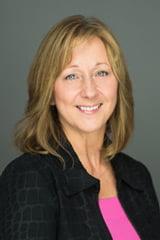 Kinman has a Bachelors of Social Work from Bowling Green State University (Ohio) and a Masters of Social Work from the University of Michigan. She worked a family social worker and then as an administrator and fundraiser for numerous organizations in Ohio and Kentucky. In 2000 she moved from the non-profit world to the private sector, working as a business analyst and technical project manager. She stepped away from the corporate world in 2014 to focus on art.
Hastings College is a private, four-year institution located in Hastings, Nebraska, that focuses on student academic and extracurricular achievement. With more than 60 majors and 15 pre-professional programs, Hastings College has been named among "Great Schools, Great Prices" by U.S. News & World Report and a "Best in the Midwest" by The Princeton Review. For more, go to hastings.edu.