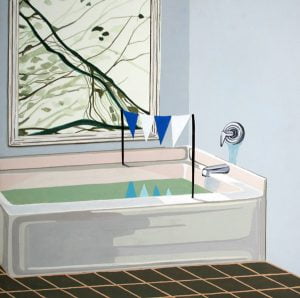 Following a national open call for art, Ekaterina Popova and Alicia Puig of Create! Magazine are set to open the "In Your Own Words" exhibition at Hastings College on Thursday, January 23 in the Jackson Dinsdale Art Center (JDAC). The exhibition highlights a diverse range of media, subject matter and artistic expression that represents a cultural snapshot of the vibrant art practices.
The exhibition is available from January 23 through February 22 and is free and open to the public. Regular gallery hours are Monday through Friday from 9:00 a.m to 4:30 p.m., plus Wednesdays from 5:00 to 8:00 p.m and Saturdays from 10:00 a.m to 1:00 p.m.
A reception for the exhibition will be held Saturday, February 22 from 12:00 to 2:00 p.m. at the JDAC (700 E. 12th Street). The reception is also free and open to the public.
The national open call saw 77 applicants from 30 states. Puig and Popova then selected 20 artists who use their artistic ability to make a personal statement through their work. The artist comments on topics like identity, nature, technology and art-making through explorations of landscape, contemporary still-life, the figure and abstraction.
"It is incredibly exciting to be able to deliver high quality gallery programming to Hastings College and the community while also engaging with the public beyond Nebraska," said Kevin Mercer, instructor of art and gallery director.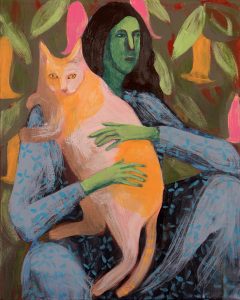 Puig and Popova founded Create! Magazine as a reaction to a lack of representation for emerging artists — and a large part of its mission today focuses on giving a voice to those who have most often been marginalized in the art world. The February 2020 edition of the magazine will highlight the Hastings College show, and the College's Department of Visual Arts.
"Not by intention, but because of the high caliber of their work, we were pleased that our same ideals of being inclusive to women and minority artists on the pages of our print publication could be brought to life on the walls of the 2020 National Juried Exhibition at Hastings College," Popova and Puig said in a statement. "Thank you to Hastings College for allowing us the opportunity to curate 'In Your Own Words' and we hope you enjoy the show!"
Selected artists include:
Alice Stone-Collins, Alpharetta, Georgia
Carmen Mardonez, Los Angeles, California
Dorotha Grace, Jupiter, Florida
Emily Bayless, Lancaster, Pennsylvania
Ericka Sobrack, Orlando, Florida
Genevieve Cohn, Waltham, Massachusetts
Jessica Alazraki, New York, New York
Jessica Tenbusch, Ypsilanti, Michigan
Kacy Jung, San Francisco, California
Maddie Stratton, New Orleans, Louisiana
Matilda Forsberg, Maplewood, New Jersey
Sarah-Twiggy Boyer, Coral Springs, Florida
Xingze Li, Brooklyn, New York
Bree Smith, Carrollton, Texas
Ingrid V. Wells, San Francisco, California
Kathryn Putnam, Philadelphia, Pennsylvania
Jodi Stuart, Denver, Colorado
Lauren Brady, Lansing, Michigan
Threadwinners, Norco, California
Monica Shulman, Dobbs Ferry, New York
Popova is a visual artist, co-author of The Smartist Guide, host of the Art & Cocktails Podcast and the CEO and founder of the international independent print publication, Create! Magazine. She has a passion for painting and providing opportunities to artists of all career levels.
Puig is the CEO and co-founder of the online gallery PxP Contemporary, director of business operations for Create! Magazine, and co-author of the book The Smartist Guide. She enjoys connecting with artists to learn about their work and help them find opportunities to exhibit, get published, and make sales.
Create! Magazine's goal is to give a voice to artists who have been treated as insignificant in the art world. Create! Magazine has become very popular with more than 15,000 new monthly visitors to their website and more than 100,000 Instagram followers.
Nebraska's premier private college, Hastings College is a four-year institution located in Hastings, Nebraska, that focuses on student academic and extracurricular achievement. Hastings College has been named among "Great Schools, Great Prices" by U.S. News & World Report and a "Best in the Midwest" by The Princeton Review. For more, go to hastings.edu.