The Hastings College Jackson Dinsdale Art Center is featuring the art of painter, printmaker and public artist Watie White now through December 2. White, from Omaha, Nebraska, uses traditional and new techniques to channel his insatiable curiosity about the lives of others.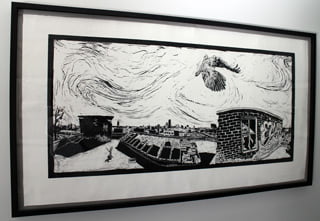 He has exhibited across the nation and around world, most recently in collaboration with Opera Omaha, Habitat for Humanity, Justice For Our Neighbors and InCOMMON community development.
While his studio work draws deeply from art historical traditions, Watie's insightful process and approach to collaboration has enriched the creative profile and public art landscapes of the communities he serves. Exploring diversity in medium, context and scale, White interweaves his work with conversation and contradictory points of view as a way to open windows into discourse.
White will be at Hastings College for a reception in JDAC on Saturday, November 19 from 4:00 to 7:00 p.m. The reception will include a glass making challenge at 4:00 p.m., followed by light refreshments and an informal gallery talk. The Jackson Dinsdale Art Center is located at 700 E. 12th Street on campus. For directions, go to hastings.edu/maps.
The current exhibit in JDAC's main gallery featuring select works from the Karen and Robert Duncan collection will remain open through December 16.
Both galleries are open to the public 9:00 a.m. to 4:30 p.m. Monday through Friday, and 12:00 to 4:00 p.m. on Saturdays; admission is free.
Hastings College is a private, four-year institution located in Hastings, Nebraska, that focuses on student academic and extracurricular achievement. With 64 majors and 15 pre-professional programs, Hastings College has been named among "Great Schools, Great Prices" by U.S. News & World Report and a "Best in the Midwest" by The Princeton Review. For more, go to hastings.edu.