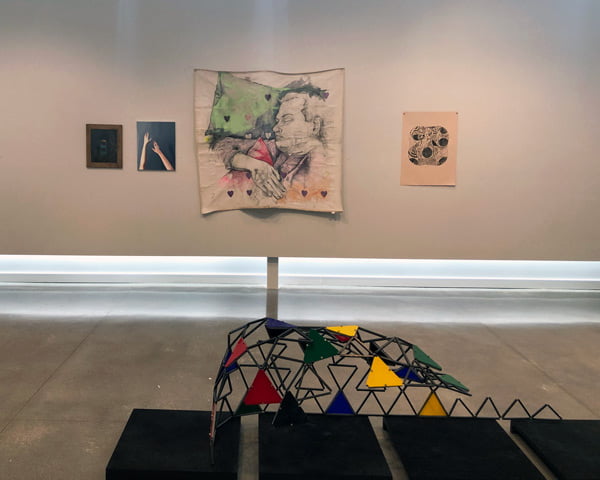 For the month of March, Hastings College student artwork will be featured in the Jackson Dinsdale Art Center gallery. Students from across campus were invited to submit their work in a variety of mediums for the Juried Student Exhibition.
This year's open show for students was curated by Mychaelyn Michalec, an artist whose work depicts ultramodern matters of domestic life. Her work has been exhibited internationally and is currently being shown in many places; Femme Maison at House Guest Gallery in Louisville, Kentucky; I Do Not Ask Any More Delight at Quappi Projects in Louisville; and Tuft at Group Projects in Philadelphia, Pennsylvania.
Michalec will give a demonstration and talk on Friday, March 6, at 4:00 p.m. in the Jackson Dinsdale Art Center Room 101 (700 East 12th Street). The event is free and open to the public.
Hastings College students submitted 63 works for this year's open show, and 21 were selected by Michalec. Awards for the show will be announced during a 2:00 p.m. reception in the JDAC on Sunday, March 29. The reception is open to the public.
Students selected for the gallery are listed below.
Lauren Feden of Papillion, Nebraska
Benjamin Friend of Lincoln, Nebraska
Connor Goodwin of Valentine, Nebraska
Dacia Hartman of Hastings, Nebraska
Jordan Ismaiel of Hastings, Nebraska
Melissa Loney of Omaha, Nebraska
Stephanie Mlynarik of Fort Calhoun, Nebraska
Karlie Norton of Littleton, Colorado
Josie Polacek of Omaha, Nebraska
Cole Schmidt of Hartington, Nebraska
Myranda Soncksen of Burlington, Colorado
Andy Streck of Alda, Nebraska
Neely Tubbs of St. Paul, Nebraska
Sydnie Waldron of Alliance, Nebraska
The student work can be viewed during normal gallery hours — Monday through Friday from 9:00 a.m to 5:00 p.m and Wednesday from 5:00 to 8:00 p.m.
Hastings College is Nebraska's premier private college. A four-year residential college that focuses on student academic and extracurricular achievement, Hastings' student-centered initiatives include providing books, an iPad and a two-week study abroad experience at no additional cost. A block-style semester schedule allows professors and students to focus on fewer classes at a time and promotes hands-on experiences. Discover more at hastings.edu.