Governor Pete Ricketts, Poet Laureate Ted Kooser among scheduled speakers.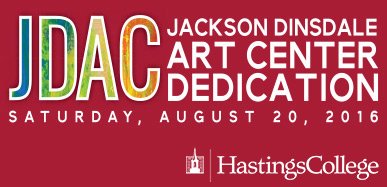 Hastings College will celebrate the opening of the Jackson Dinsdale Art Center (700 E. 12th St.) with a dedication ceremony beginning at 5:00 p.m. on Saturday, August 20. Parking will be available in front of Lynn Farrell Arena (800 E. 12th St.), and the event is open to the public.
The ceremony will begin with a welcome by Hastings College President Don Jackson, and include remarks from Pamela Hilton Snow, former executive director of The Nebraska Cultural Endowment, and Tom Kreager, chairman and professor of the art department. An original poem will be read by the 2004-2006 U.S. Poet Laureate Ted Kooser, followed by remarks from Nebraska Governor Pete Ricketts.
Challenger, America's famous free-flying bald eagle, will take flight during the National Anthem, which will be performed by the Hastings Symphony Orchestra.
Tours of the facility and refreshments will follow the program.
"The opening of the Jackson Dinsdale Art Center is a historic moment for Hastings College and the state of Nebraska," said President Don Jackson. "This is one of the premier art facilities in the country and is an incredible facility for our students, faculty and community. It honors Jackson Dinsdale's vision of what arts on the Hastings College campus should be."
Through Jackson Dinsdale's $5 million leadership gift, and Kim and Tom Dinsdale's extraordinary generosity, students and faculty will enjoy a host of exciting new opportunities in the JDAC.
Among the $8.5 million, 25,000 square foot building's features are expanded studios for glass blowing, painting, sculpture production, printmaking and ceramics, along with individual studio space for students. The facility also includes critique rooms, a media room, classrooms and gallery space – all designed to provide a great learning space for art programs, as well as facilitate engagement among K-12 school groups and broader community.
The building was designed by TACKarchitects of Omaha to reflect the creativity and energy of the artists working inside.
Bios for Speakers and Challenger
Governor Pete Ricketts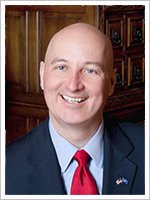 Governor Pete Ricketts was sworn in as Nebraska's 40th Governor on January 8, 2015. Governor Ricketts was first elected to office upon winning the Nebraska gubernatorial election on November 4, 2014. Prior to his election as governor, he worked to support Nebraska entrepreneurs and startup companies.
Born in Nebraska City and raised in Omaha, Ricketts is the son of an entrepreneur and a public school teacher. Governor Ricketts and his wife, First Lady Susanne Shore, have been married for 18 years and live in Omaha with their three children, juniors Roscoe and Margot and freshman Eleanor.
Ricketts graduated from Westside High School before attending the University of Chicago where he earned his bachelor's degree in biology and an MBA in marketing and finance. After graduate school, Ricketts returned to Omaha and worked for Union Pacific before working as a customer services representative in his family's business, a company that would eventually become known as Ameritrade. He went on to hold leadership roles in the company including Senior Vice President of Strategy and Business Development, Senior Vice President of Product Development, Senior Vice President of Marketing, President and Chief Operating Officer (COO). He is also a past board member of TD Ameritrade's Board of Directors.
Ricketts is the founder of Drakon, LLC that supports local entrepreneurs and startup companies. He also serves as a director for the Chicago Cubs baseball team.
Driven by a desire to give back to his community and create education and job opportunities, Governor Ricketts has taken on leadership roles in local and state associations and organizations. Currently, he serves on the boards of the Mid-America Council of the Boy Scouts and the Christian Urban Education Service (CUES). Additionally, he serves as a director for the Children's Scholarship Fund Foundation, a director of the Nebraska Game and Parks Foundation, a member of the Board of Advisors of Opportunity Education Foundation, a member of the Archbishop's Committee for Development, a member of the Knights of Columbus and a Knight of the Holy Sepulchre. Governor Ricketts and his family attend St. Margaret Mary's church.
President Don Jackson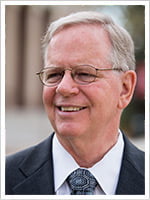 Donald E. Jackson '70, knows the Hastings College story because it is his story. A Cambridge, Neb., native, he first entrusted Hastings College to put him on course for a meaningful career. Then, in the years following his graduation, he has given generously to Hastings College for capital projects and scholarships.  From 2007 to 2012, he gave of his time and energy, serving on the Hastings College Board of Trustees and on the Hastings College Foundation Board. During his tenure on the Hastings College Board of Trustees, he served as Vice Chair.
After returning to Hastings College on a full-time basis in fall 2012 to serve as Vice President for Advancement, he became the college's 16th President on February 4, 2013. 
Before returning to Hastings, President Jackson served as chief operating officer of Easter Seals, Inc., which benefits more than one million individuals with disabilities or special needs and their families each year through more than 550 program sites. He was responsible for all internal operations of the organization as well as overseeing all fundraising programs and activities, marketing, corporate relations, information technology, and relations with 75 affiliate organizations in the U.S. and affiliates in Australia, Mexico, and Canada. Prior to joining Easter Seals, President Jackson was president of Rehabilitation Systems, Inc., a multi-state health care corporation he founded.
He received a BA in biology from Hastings College. He holds an MS in rehabilitation services administration from DePaul University and a certificate in physical therapy from Northwestern University. 
President Jackson is married  to Beverlee Nelson, and they have three children.
Ted Kooser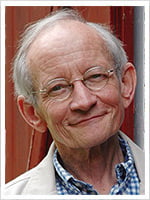 Two-time United States Poet Laureate (2004-2006), the highly regarded Nebraskan poet Ted Kooser was the first poet from the Great Plains to hold the position. A professor of English at the University of Nebraska-Lincoln, he is the author of thirteen full-length collections of poetry, including Weather Central (University of Pittsburgh Press, 1994) and Delights and Shadows(Copper Canyon), which won the 2005 Pulitzer Prize. His two most recent books, Splitting An Order (Copper Canyon) and The Wheeling Year (University of Nebraska Press), were released in 2014. Kooser's writing is known for its clarity, precision, and accessibility; and his poems are included in textbooks and anthologies used in both secondary schools and college classrooms across the country. In addition to poetry, Kooser has written in a variety of forms including plays, fiction, personal essays, literary criticism, and children's books. As Poet Laureate he started the American Life in Poetry project.
The Poetry Home Repair Manual (University of Nebraska Press, 2005) gives beginning poets tips for their writing. Lights on a Ground of Darkness (University of Nebraska Press, 2010) is a memoir of family stories. His first book of prose, Local Wonders: Seasons in the Bohemian Alps(University of Nebraska Press, 2002), won the Nebraska Book Award for Nonfiction in 2003 and Third Place in the Barnes & Noble Discover Great New Writers Award in Nonfiction for 2002. The book was chosen as the Best Book Written by a Midwestern Writer for 2002 by Friends of American Writers.  It also won the Gold Award for Autobiography in ForeWord Magazine's Book of the Year Awards. He has written three children's books from Candlewick Press, The Bell in the Bridge (2015), Bag in the Wind (2010), illustrated by Barry Root, and The House Held Up by Trees (2012).   In the spring of 2014, a literary biography of Kooser written by Mary K. Stillwell was published by University of Nebraska.
Over the years his works have appeared in many periodicals including The Atlantic Monthly, Poetry, The Hudson Review, The Nation, The American Poetry Review, The Kenyon Review, Prairie Schooner, and Antioch Review. He has received two NEA fellowships in poetry, four Pushcart Prizes, the Stanley Kunitz Prize, The James Boatwright Prize, and a Merit Award from the Nebraska Arts Council.
Born in Ames, Iowa, in 1939, Kooser earned a BS at Iowa State University in 1962 and an MA at the University of Nebraska in 1968. He is a former vice president of the Lincoln Benefit Life, where he worked as an insurance executive for many years. He lives on an acreage near the town of Garland, Nebraska, with his wife, Kathleen Rutledge, and dog Howard. He also has a son, Jeff, and two granddaughters, Margaret and Penelope.
Pamela Hilton Snow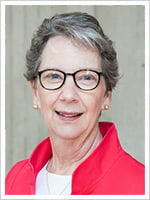 Pamela Hilton Snow retired in June as executive director of the Nebraska Cultural Endowment, a position she held since 2006.
Snow has also served for more than a decade as a site visitor for the National Endowment for the Humanities. In this role, she has visited multiple states to conduct 360-degree reviews of state humanities councils. The NEH also asked her to assist the boards of the South Dakota Humanities Council and the Texas Council for the Humanities during times of transition.
Prior to joining the Nebraska Cultural Endowment, she and her husband, Marc, owned Snow's Floral Company in Grand Island for many years.
Snow's board service includes St. Francis Regional Medical Center (Grand Island, Neb.,) Grand Island Community Foundation, Stuhr Museum of the Prairie Pioneer (Grand Island, Neb.,) the Federation of State Humanities Councils, Humanities Nebraska, Great Plains Chautauqua, Nebraska Book Festival, Museum of Nebraska Art and the Nebraska Cultural Endowment.
She studied at the University of Salzburg and the University of Loughborough before receiving her bachelor's degree from the College of William and Mary in Williamsburg, Va.  She earned her master's degree from the University of Nebraska.
Professor Tom Kreager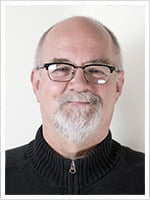 Tom Kreager, Professor and Chair of the Hastings College Art Department, has been teaching at Hastings College for 26 years. 
In this time he has helped/mentored students to go forward in their lives to experience a creative and fulfilling life. His students have attended universities and colleges around the globe. They have taught in six different counties and received numerous Masters of Fine Arts degrees and even a couple PhDs. Many of the graduates have run their own glass businesses and regularly exhibit their art. 
After finding his way into the arts he graduated from The Ohio State University with his Bachelors of Fine Arts then the University of Illinois with his Masters of Fine Arts. During his career he has worked for many artists including Dale Chihuly, William Morris, and many others. His teaching experience spans three continents and various places in the United States. 
Tom is proud to call Hastings Nebraska and Hastings College his home.
Challenger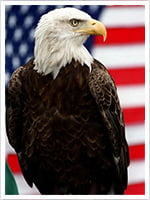 Challenger is a non-releasable Bald Eagle cared for by the not-for-profit American Eagle Foundation headquartered at Dolly Parton's Dollywood family theme park in Pigeon Forge, Tennessee.
Named in honor of the fallen space shuttle crew, Challenger acts as an ambassador for his species. For over twenty years, Challenger has been making educational appearances throughout the U.S. to raise awareness about protecting eagles, natural resources, and the environment.
Challenger is the first Bald Eagle in U.S. history trained to free-fly into major sports stadiums, arenas, and ballrooms during the National Anthem! Some of his biggest appearances include several MLB World Series, Fiesta Bowls, NFL Pro-Bowls, BCS National Championships, and hundreds of other college and major league football and baseball games and corporate events across the country. Challenger has also made appearances at the White House, Pentagon, U.S. Capitol Building, Disney's Animal Kingdom grand opening, World War II groundbreaking ceremony, and numerous national TV shows including Dateline NBC, Fox and Friends, Good Morning America, the David Letterman Show, Larry King Live, and Jack Hannah's Animal Adventures.
In 1989, Challenger was blown from a wild nest as a baby during a storm and was hand-raised by the people who rescued him. Unfortunately, he experienced too much human contact at a very young age and became "human imprinted." Challenger is physically perfect, but he thinks he's a person. He cannot survive on his own in the wild.
Despite two attempts to release Challenger back into the wild, he kept landing near people to beg for food. On his third attempt to score a meal, a frightened man almost beat him with a stick, but a bystander saved him from harm. At one year of age, Challenger was placed under the care of the American Eagle Foundation by federal/state fish and wildlife agencies to be used for educational purposes.
The Bald Eagle is a protected species in the lower 48 states. The banning of DDT, strict protection laws, and the efforts of organizations like the American Eagle Foundation have all contributed to the recovery of Bald Eagles in the lower 48 states. They've made an amazing comeback from only a 400 nesting pairs in the early 60's to over 15,000 pairs today!
Founded in 1882, Hastings College is a private, four-year liberal arts institution located in Hastings, Nebraska, that focuses on student academic and extracurricular achievement. With more than 60 majors in 32 areas of study and 13 pre-professional programs, Hastings College has been named among "America's Best National Liberal Arts Colleges" by U.S. News & World Report, a "Best in the Midwest" by The Princeton Review and a "Best Buy in College Education" by Barron's. Visit Hastings.edu for more.