Chris Hochstetler has joined Hastings College as Dean of Innovation and Creativity. He was previously Chief Executive Officer of KANEKO in Omaha, Nebraska, where he was responsible for developing and executing the organization's strategic plans, day-to-day operations, staff and all fundraising.
At Hastings College, Hochstetler will work closely with faculty and staff in the Visual and Performing Arts areas to expand and grow programs and develop unique ways to bring creativity and innovation to campus.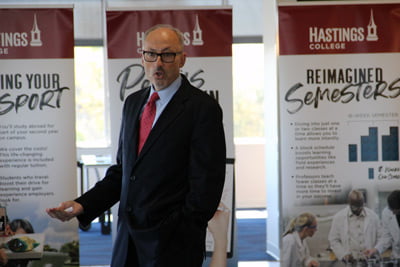 "The addition of Chris Hochstetler to our staff is a symbol of our institutional direction to think about creativity and innovation in preparing students for life after Hastings College," said College President Dr. Travis Feezell. "But beyond the symbolic, we've hired an undeniably talented individual who will assist our students and put us on the cutting edge of 21st century education."
Hochstetler said, "Hastings College has graduated creative and caring students for 136 years. Innovation and creativity are key elements of discerning, compassionate and engaged citizens and communities. History records that the arts can help us fulfill this vital human pursuit. I am both honored and humbled to join the Bronco family."
Hochstetler grew up in central Nebraska and graduated from Grand Island Senior High. He earned a B.S. in Legal Studies and a History minor from the University of Maryland, and a Master of Public Administration, specializing in nonprofit management and leadership, from Walden University.
He has served as the Director of Fund Development for the Missionary Society of St. Columban, an international missionary society, and as Senior Vice President of Resource Development for the American Lung Association.
After high school, he joined the Army and had a 20-year career, serving in various assignments and locations, including Europe and Iraq. He is a combat veteran, and his last assignment was the Acting Battalion Sergeant Major of the Army's only Special Operations Recruiting Battalion.
Chris is married to Kelly (Bates) Hochstetler and they have two children, Hayley and Tanner.
Hastings College is a private, four-year institution located in Hastings, Nebraska, that focuses on student academic and extracurricular achievement. Hastings College has been named among "Great Schools, Great Prices" by U.S. News & World Report and a "Best in the Midwest" by The Princeton Review. For more, go to hastings.edu.