Hastings College student Holly Hild was selected by the National Association of Intercollegiate Athletics (NAIA) to receive the Emil S. Liston Award.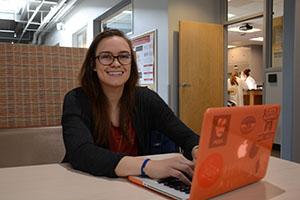 Hild, a junior from Omaha majoring in chemistry, is known across campus as a guard on the women's basketball team. What some may not know, is that she's also a high-achieving chemistry major on a pre-dental track.
With such academically arduous classes, Hild said it's a challenge balancing her school and athletic schedules
"It's definitely hard, and I don't sit and watch TV ever," Hild said. "I don't get to read books anymore like I used to, but it's definitely rewarding and my time management has gone through the roof—I'm great at it. And I'm always on the move, and I don't think I would want any extra time on my hands because I wouldn't know what to do with it. It really makes me focus when I need to get something done."
Since 1950, this Liston Award includes a $1,000 scholarship has been presented annually to one junior male and one junior female basketball student-athlete in the country. It is based on athletic and scholastic achievement. Only two previous Hastings College students have received this honor—Shannon (Mihaltan) Brown '02 and Tom Osborne '59.
With a near-perfect GPA, Hild said she plans to attend dental school, following in the footsteps of several family members, including her mom.
"I've just grown up with it and I really fell in love with the profession, just seeing how much joy it gives my mom to help people," she said. "I've done internships and I've worked in dental offices and I just absolutely love the environment."
Besides being involved in athletics, Hild devotes her time to Tri Beta, the biology honorary; is a historian for the Alpha Chi honorary society; and worked last summer with a special needs kickball and baseball team.
For more on Hild, click here.
Hastings College is a private, four-year institution located in Hastings, Nebraska, that focuses on student academic and extracurricular achievement. With 64 majors and 15 pre-professional programs, Hastings College has been named among "Great Schools, Great Prices" by U.S. News & World Report and a "Best in the Midwest" by The Princeton Review. For more, go to hastings.edu.