Emily Herbek, a Hastings College sophomore from Grand Island, Nebraska, was recognized as one of four top papers at the Nebraska Undergraduate Communication Research Conference in Wayne, Nebraska. Her project, "The Intersection of Age, Gender and Peruvian Occupations" highlighted the reification of gender roles that results from visibility and invisibility of men and women in particular professions.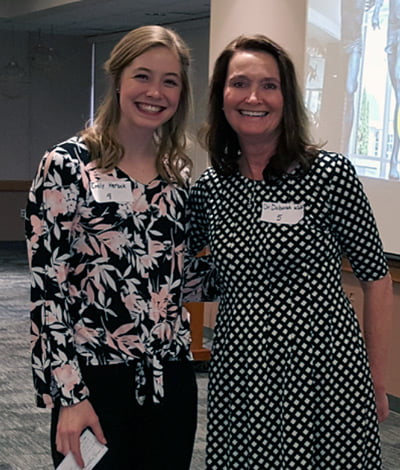 "I feel so blessed to have had the opportunity to attend the conference as just a sophomore," Herbek said. "Not only did I meet highly-educated communication studies scholars and incredible students, but also I was able to share my ongoing research."
The research project was sponsored by Dr. John Perlich, professor of communication studies at Hastings College. All of the data for the project was collected during Herbek's January Term (J-Term) trip to Peru with Dr. Jessica Henry, a professor of communication studies.
Herbek took approximately 1,500 pictures while in Peru. These photographs served as the research material for the study, and the data was analyzed through a three-stage interpretive framework, which included a photoethnography. Photoethnography is a creative research approach and format that illustrates the lives of "ordinary" people, while at the same time providing the background necessary to put the stories of those being studied in context.  
Herbek focused the photoethnography on gendered representation in law enforcement. She discovered she was witnessing, first hand, a revolution in the construction of gender identity within a third-world culture.  
"I was very proud of her presentation. She is one of the hardest working students I've met," Perlich said. "Her presentation also captured the attention of Dr. Sandra Petronio, a professor of communication studies at Purdue University. It is high praise when someone like Dr. Petronio, who serves in a dual appointment with the core faculty in the Indiana University Center of Bioethics, compliments your work."
Sophomore Emily Grant of Columbus, Nebraska, and first-year student Rachel Schmalz of Central City, Nebraska, also attended the conference. The trip was supported by Phi Omega, the chapter of Lambda Pi Eta (LPH) at Hastings College.
LPH is a national collegiate honorary society dedicated to the study of human communication. Members of Hastings College chapter of LPH have been awarded more than $3,500 in travel grant money in the last two years.  
"The national office has supported our undergraduate research projects more than perhaps any other college in the nation — we've always had regional support, and it's great to see it continue," Perlich said. "Without this support, we would never be able to attend national conferences in locations like Orlando, Las Vegas, Philadelphia and Dallas."
LPH also received support to attend the conference from the Hastings College Student Association and travel grants organized by the honorary's leadership team, which includes seniors Andrew Boge, Kenzie Shofner and Hannah Moody and junior Carly Spotts-Falzone.  
Hastings College is a private, four-year institution located in Hastings, Nebraska, that focuses on student academic and extracurricular achievement. With 64 majors and 15 pre-professional programs, Hastings College has been named among "Great Schools, Great Prices" by U.S. News & World Report and a "Best in the Midwest" by The Princeton Review. For more, go to hastings.edu.