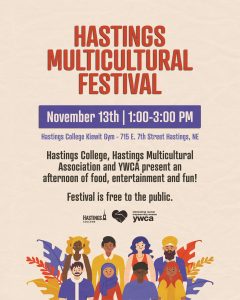 The annual Hastings Multicultural Festival, an afternoon dedicated to celebrating different cultures from around the world with entertainment, activities and food, will be held Sunday, November 13 from 1:00 to 3:00 p.m. on the Hastings College campus in Kiewit Gymnasium, 715 E. 7th Street.
The festival is free and open to the public, and community members are invited to attend.
The Multicultural Festival is designed to showcase and celebrate various cultures present in the Hastings community, bringing together people from diverse backgrounds to build community through food, music and dance from around the world.
The event is sponsored by Hastings College, the Hastings Multicultural Association and the Hastings YWCA.
Hastings College is a four-year residential college that focuses on student academic and extracurricular achievement. Hastings' student-centered initiatives include providing all required textbooks and an iPad, while a block-style semester schedule allows professors and students to focus on fewer classes at a time. Discover more at hastings.edu.