Future Broncos from the Hastings area are invited to get an early start in the Hastings College community with a new Bronco Stampede program.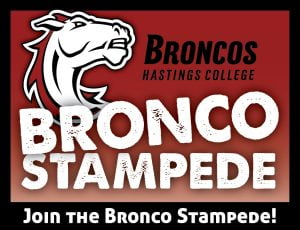 The program provides middle and high school students from Adams Central, Hastings Public Schools and St. Cecilia free admission to Hastings College events, including regular season athletic contests, music performances, theatre productions  and art gallery exhibitions for the 2022-23 school year.
Bronco Stampede informational cards with a tear-off ticket were distributed to the  schools, which in turn will distribute them to all middle and high school students.
Students just have to show the Bronco Stampede ticket at any event admissions gate and all fees will be waived.
For a list of all events, students can scan the QR code on the go to hastings.edu/calendar.
"We're excited to give local middle and high school students the opportunity to come to campus and enjoy all the great events we have going on across campus," said Dr. Annette Vargas, vice president for student access, enrollment and performance. "We're celebrating our 140th year as a college, and appreciate the partnership we have between the community and the College. Bronco Stampede is one way to recognize and celebrate that."
Hastings College is a four-year residential college that focuses on student academic and extracurricular achievement. Hastings' student-centered initiatives include providing books, an iPad and a two-week study away experience at no additional cost. A block-style semester schedule allows professors and students to focus on fewer classes at a time and promotes hands-on experiences. Discover more at hastings.edu.