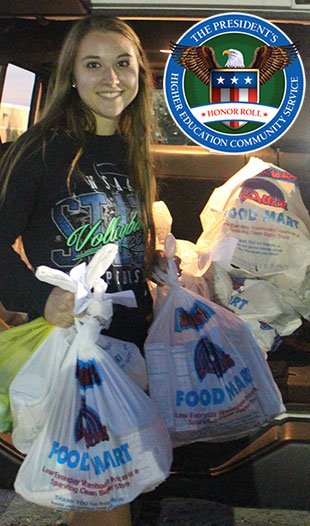 Hastings College was recently named to the President's Higher Education Community Service Honor Roll for 2015. The honor is given to colleges and universities nationwide that perform exceptional community service.
Hastings College has been named for the eighth consecutive year to the list by the Corporation for National and Community Service, a federal agency that helps Americans improve the lives of fellow citizens through service.
The College has been able to earn this achievement through the dedication of faculty, staff and students, along with the leadership of Director of Service Learning Dr. Jean Heriot, who helps implement service learning activities into the College's curriculum.
"Community service is seen as an essential learning tool at Hastings College," said Hastings College President Don Jackson '70. "Through the devoted mentorship of faculty and staff, students gain the experience necessary to enter into the community and mentor schoolchildren, feed the hungry through the Food4Thought program, spend time with the elderly and much more. The relationship between the College community and Hastings community is made stronger through the service of students and this honor roll citation allows us the opportunity to celebrate that connection."
Hastings College is a private, four-year institution located in Hastings, Nebraska, that focuses on student academic and extracurricular achievement. With 64 majors and 15 pre-professional programs, Hastings College has been named among "Great Schools, Great Prices" by U.S. News & World Report and a "Best in the Midwest" by The Princeton Review. For more, go to hastings.edu.