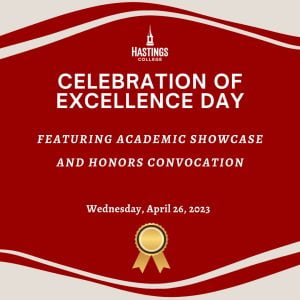 The Hastings College annual Celebration of Excellence Day is set for Wednesday, April 26. During the day, students share research and projects, and the College honors the high achievements of students and faculty. All events are free and open to the public, and additional details can be found at hastings.edu/as. Classes are canceled for the day, so all students and employees can participate in the events.
Celebration of Excellence opens with Academic Showcase, which includes 24 research, academic and other presentations. Presentations are about 25 minutes in length and most are located in Morrison-Reeves Science Center, beginning at 9:00 a.m. and ending at 3:10 p.m. In addition, more than 40 research posters will be available in the Morrison-Reeves atrium from 11:30 a.m. to 2:00 p.m.
Specific presentation titles, times and locations are listed below.
Academic Showcase is sponsored, organized and managed by Hastings College Alpha Chi, a national college honor society.
Honors Convocation, the second portion of the day, will be held at French Memorial Chapel at 3:30 p.m. During Honors Convocation, students and faculty are recognized for their accomplishments from the academic year. Honors Convocation will be streamed on the College's YouTube channel — youtube.com/user/HastingsCollege.
Honors Convocation is also when the Who's Who and Bronco Award recipients are announced. Established in 1924, the Bronco Award is the College's highest non-academic award granted to students. Recipients of the award and the accompanying Who's Who list are determined through a vote of their peers and a joint student-faculty committee.
Academic Showcase Presentations
Note: The schedule can also be found at hastings.edu/as.
9:00-9:25 a.m. – Morrison Reeves Science Center (717 N. Ash Avenue)
Room 219 – "Detection of Exoplanet Candidate in TOI-1302 Star System via Transit Photometry" by Tyler Rath of Thedford, Nebraska
Room 148 – "Honor and Death – The Similar Practices of Honor Towards Fallen Samurai and American Soldiers" by Brandon Hamel of Hastings, Nebraska
Room 213 – "Exhume Their Stories: A Rhetorical Reclamation Autoethnography Case Study between AIDS and Monkeypox" by Brendan Kachnowski of Rock Springs, Wyoming
Room 131 – "Queer Faces and Safe Space: An Analysis of Hastings College's Safe Spaces for LGBTQIA+ Students" by Natalie Watson of Franklin, Tennessee
9:35-10:00 a.m. – Morrison Reeves Science Center
Room 219 – "Cynthia Lee Reese: I Love You To The Moon And Back–A Family Presentation" by Cici Velarde of Loveland, Colorado
Room 148 – "'How Far with Women's Lib?': The Catholic Church's Response to Second-wave Feminism and the Reconciliation of Catholic and Feminist Identity in Ireland" by Hailey Moore of Juniata, Nebraska
Room 213 – "Pruned Fractal Trees: Properties of Space-Filling Canopies" by Samantha Worthington of Perry, Kansas
Room 131 – "From Tito's Yugoslavia to Today's Latvia: Shifting Power, Ethnocracy, and Minorities in Eastern Europe" by Elizabeth Miller of Arlington, Kansas
10:10-10:35 a.m. – Morrison Reeves Science Center
Room 219 – "The Fight For Female Veterans" by Savana Kascak of Thornton, Colorado
Room 148 – "The Effect of Diet on Academic Focus and Motivation in College Students" by Riley Lanning of Glendale, Arizona
Room 213 – "We are the World: Famine Aid in 20th Century Africa and the Creation of the 'Humanitarian Internationalist'" by Emma Downing of Colorado Springs, Colorado
Room 131 – "An Exploration of Campus Community and Student Success" by Claire Hubbard of Highlands Ranch, Colorado
10:45-11:35 a.m. – Creative Thoughts in Action – various locations
Kiewit, Room 113 – "The Harm Black Women Face in Competitive Performance Spaces" – service learning/demo by Ally Banks of Shawnee, Kansas
Morrison-Reeves, Rooms 131 and 148  – "Building a Musical Tesla Coil and Visualizing Sound using a Rubens Tube" – service learning/demo by Tyler Seeley of Parker, Colorado, and Lance High of Sanford, Florida
Kiewit, Room 116– COMM333 – Intercultural Communication and "A Tough Task: Fostering Constructive Dialogue & Seeking Understanding" by Emma Downing of Colorado Springs, Colorado; Jake Levinson of Breckenridge, Colorado; and Michaela Fox of Elkhorn, Nebraska
11:30 a.m.-2:00 p.m. – Poster Session, Morrison-Reeves Science Center Atrium
"Synthesis of the Novel Compound 1-Tert-Butyl-3-Propylimidazolium Iodide" — Jordan Duffy of Elbert, Colorado
"Herpes Zoster: Shingles" — Hallee Mann of Burwell, Nebraska
"Coronary Artery Disease" — Rilee Silvain of Omaha, Nebraska
"Electrochemical properties of gold nanoparticles induced in white tea" — Justin Martin of Los Alamos, New Mexico
"Synthesis of Imidazolium-Based Ionic Low Melting Point Solids Containing an Isopropyl Branch" — Morgan Wohl of Hallam, Nebraska
"Melting Points of DNA after affected with ionic liquids" — Tristin Duff of Albuquerque, New Mexico
"Muscle Firing Patterns During Prone Hip Extension" — Carley Leners of Beatrice, Nebraska, and Allison Bauer of Elm Creek, Nebraska
"The Impact of Dehydration and Sprint and Change of Direction Performance" — Hayden Fells of Fort Lupton, Colorado, and Rodrigo Braga of Porto Alegra, Brazil
"The Validity of the PACER Test for Predicting Maximal Oxygen Consumption" — Brian Clausen of Papillion, Nebraska, and Zachary Hole of Wichita, Kansas
"Reaction Times in Esport Athletes and Traditional Athletes with and without an Exhaustive Anaerobic Exercise Intervention" — Kourtney Stewart of Smith Center, Kansas
"Addison's Disease" — Claire Hubbard of Highlands Ranch, Colorado
"Survey of Health Practitioners on the Effects of Varying Squat Depths" — Brett Simonsen of Sutton, Nebraska, and Trenton Smith of Omaha, Nebraska
"Effect of Rigorous Lower Body Exercise on Balance and Coordination" — Xhane Greenidge of Cave Hill, Barbados, and Naomi Pedroza of Hastings, Nebraska
"Dehydration and its Impacts on Muscle Soreness" — Hali Hansen of Council Bluffs, Iowa, and Natasha Keen of Saint Brelade, Jersey
"Effects of Ionic Strength and Solution pH on Electrochemical Detection of Ascorbic Acid" — Alyssa Remy of Hastings, Nebraska
"Determination of Heavy Metal Concentrations in Nebraskan Agricultural Water Sources" — Tyler Ohrman of Hastings, Nebraska
"Squatting Barefoot Versus Shoe" — Evan Kingston of Springfield, Nebraska, and Braden Kizer of Overton, Nebraska
"QPCR to estimate copy number" — Hayden Grint of North Loop, Nebraska
"Entomopathogenic Fungi's Greater Role" — Dawson Knode of Haxtun, Colorado
"The Effects of Small Class Sizes, in Rural Schools, on Students' Behavior and Academic Performance: A comparison study" — Nicole Halsey of Grand Island, Nebraska
"Rheumatoid Arthritis" — Kelsie Kohl of Hastings, Nebraska
"Success of Brood Parasites Based on Generalist or specialist qualities" — Paul Baker Rodriguez of Highlands Ranch, Colorado
"Bacteriophage therapy in combating bacterial infection" — Brianna King of Westminster, Colorado
"Thermophiles vs. Psychrophiles: Adaptations and Biotechnology" — Rachel Hefta of Crookston, Minnesota
"Riparian Restoration" — Matt Urbanski of Omaha, Nebraska
"Connecting and Touching Hearts Around the World" — Emily Struss of Hastings, Nebraska; McKenzie Lloyd of Hastings, Nebraska; Karly Varah of Doniphan, Nebraska; and Lindsey Pratt of Denver, Colorado
"The Complete Natural, Social, and Cultural History of the Pet Rock" — Emma Downing of Colorado Springs, Colorado; Hailey Moore of Juniata, Nebraska, Max Griffel of La Vista, Nebraska, Kinser Rafert of Sutton, Nebraska
"The Pathophysiology and Etiology of Alzheimer's Disease" — Claire Larson of Omaha, Nebraska
"An Inquiry into the Experiences and Perceptions of Bilingual Students in Rural Nebraska" — Riley Lanning of Glendale, Arizona, and Nils Schafer of Rheinbach, Germany
"Plastic Degradation: Testing Ionic Liquids Ability to Degrade Plastic" — Courtney Manahan of Strasburg, Colorado
"Nazis in Nebraska?: A Deeper Dive into the Denazification Program in Midwestern POW camps" — Courtney Manahan
"Captive Breeding of Fish May Reverse the Effects of Invasive Species" — Breanna Brennan of Aurora, Colorado
"Converting a Bicycle into an Electric Bicycle to Reduce Toxic Emissions from Motor Vehicles" — Garrett Clasen of Casper, Wyoming
"The effects of mirrored self-reflection on implicit bias towards loneliness & well-being" — Nils Schafer of Rheinbach, Germany
"Design of a Blimp" — Ryan Hunter of Aurora, Nebraska
"The Harmful Impact Zebra Mussels Have On Fish In The Great Lakes and the Correlation to Fish in Nebraska" — Paxton Terry of McCook, Nebraska
"Reduction of Benzophenone" — Colby Grossart of Wolbach, Nebraska
"Solar Panel Project" — Ashton Valentine of Hastings, Nebraska
"Additional Protections for Green Sea Turtles Nesting in the United States Southeast Coastline" — Lauren Gahn of Stockton, California
"Effects of Vertebrate Parental Investment on Future Reproductive Efforts" — Mat Baird of Golden, Colorado
"Electric Motorcycle" — Jarron Martinez of Brighton, Colorado
"Interstitial Microorganisms in Honduras" — Madyson Ludwig of Doniphan, Colorado
"The Art Scene in and Near Lahinch, Ireland" — Savanah Ellis of Arapahoe, Nebraska
"Pathogeography: Enhancing Current Disease Surveillance Models" — Emma Enochs of Lebanon, Kansas
"Poverty and Obedience: the Usus Pauper Controversy" — Max Griffel of La Vista, Nebraska
"AEGIS Analyzing Elements which Generate Illegal Servitude" — Victoria Caplinger of Effingham, Kansas
"Design and Physics of a Remote Control Airplane" — Morgan McMeen of Broken Bow, Nebraska
2:10-2:35 p.m. – Morrison-Reeves Science Center
Room 219 – "An Analysis of Gender and Marriage in An Experiment with An Air Pump" by Hailey Moore of Juniata, Nebraska
Room 148 – "Inside the Walls of Damascus: Muslim Histories of the Second Crusade" by Kinser Rafert of Sutton, Nebraska
Room 213 – "The (Security) Dangers of Polymetallic Nodule Mining" by Victoria Caplinger of Effingham, Kansas
Room 131 – "The Decision to Disclose your Learning Disability to Peers" by Cassandra Pine of Golden, Colorado
2:45-3:10 p.m. – Morrison-Reeves Science Center
Room 219 – "Rosin the Bow: The Influence of Irish Folk Music on American Folk Music" — Jake Levinson of Breckenridge, Colorado
Room 148 – "Patient Versus Provider: Effective Communication in Type 1 Diabetes" by Myah Brown of Grand Island, Nebraska
Room 213 – "Untold Stories of Forensics Competitors: Is my mother tongue a curse?" by Citlaly Quiroz of Fort Morgan, Colorado
Room 131 – "Is Literary Studies Doing Its Job?: An Examination of the Application of Intersectionality" by Ally Banks of Shawnee, Kansas
3:30 p.m. – Honors Convocation, French Memorial Chapel (800 N. Turner Avenue)