Daniel T. Beck, a mixed-media artist, will be working with Hastings College Department of Visual Arts students Feb. 20-23. Beck will also present a lecture of his work on Wednesday, Feb. 22 at 7:00 p.m. in Wilson Auditorium (714 E. 9th Street) on campus.
The lecture is free and open to the public.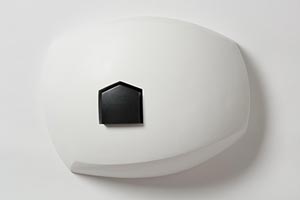 In addition to being a working artist, Beck is the Iron Studio Coordinator at the Penland School of Craft in North Carolina. His work investigates the themes of home, personal history, memory and place.
During his time on campus, Beck will produce his own artworks while working alongside students in the Jackson Dinsdale Art Center sculpture studios. He will also conduct a design workshop in Instructor of Art Aaron Badham's metal sculpture class. The workshop will cover the conception of major ideas and their relation to process as well as basic drafting techniques.  
The Department of Visual Arts Visiting Artist Program is sponsored by a Windgate Charitable Foundation grant.
Bio For Daniel T. Beck
Daniel T. Beck earned a B.A. in Studio Art/Art History from the University of Georgia, where he focused on metalsmithing and medieval Christian architecture. He is currently the Iron Studio Coordinator at Penland School of Crafts in the mountains of western North Carolina. Beck has a diverse background/interest in materials, having worked as a jeweler, carpenter, blacksmith, community mural artist, sculpture conservator, machinist, and as adjunct professor at Appalachian State University in Boone, North Carolina. His exhibition history includes the Asheville Arts Council (Asheville, North Carolina), Rebus Works (Raleigh, North Carolina), Crimson Laurel (Bakersville, North Carolina), the Penland Gallery, and the Cameron Art Museum (Wilmington, North Carolina). Beck is also a contributing author/illustrator for the Artist Blacksmith Association of North America.
Beck's work currently focuses on mixed-media sculpture investigating themes of home, personal history, memory and place. The windowless houses serve as stand-ins for these themes; and by placing these houses in relationships with other symbolic objects, he strives to evoke structure, containment, deterioration, and impermanence. Drawing is integral to the execution of Daniel's artwork. He creates schematics and diagrams to work through ideas, accumulating information on paper throughout the drafting and planning process: multiple views, dimensions, details and the graphic quality of a straight line.
Hastings College is a private, four-year institution located in Hastings, Nebraska, that focuses on student academic and extracurricular achievement. With 64 majors and 15 pre-professional programs, Hastings College has been named among "Great Schools, Great Prices" by U.S. News & World Report and a "Best in the Midwest" by The Princeton Review. For more, go to hastings.edu.