Rob Andrews, a 2007 Hastings College graduate, is coming back to campus as a speaker for Black History Month. He will speak February 28 at 7:00 p.m. in Fuhr Hall (723 E. 9th Street) on campus. The event is free and open to the public.
The event is sponsored by the Black Student Alliance, the Hastings College Alumni office and the Hastings College Student Engagement office.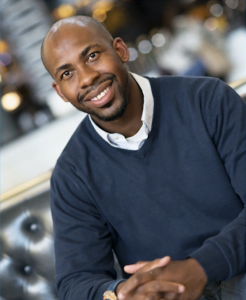 Andrews lives in Denver, Colorado, where he is executive director of the longstanding nonprofit Denver Works. He focuses on social entrepreneurship and nonprofits to help people across the state find jobs.
Andrews was the first person in his family to attend college, and he was offered a full ride to play football at Hastings College. He then played for the Calgary Stampeders in the Canadian Football League after graduation. However, shortly thereafter, Andrews realized he was more committed to social change than the scoreboard.
He moved back to his hometown of Colorado Springs and helped open a campaign office for then-Presidential candidate Barack Obama and ran for city council.
Andrews wanted to impact his community the only way he knew how — social entrepreneurship. In the past five years, he has started and managed four socially conscious startups, from a program called One Voice Coalition to the app Arcade Exchange.
Now in Denver, Andrews has worked at the intersection of social entrepreneurship and nonprofits to help people across the state find jobs. Andrews said his mission is to align businesses with people's needs, keep money in communities and empower others to create social change in minute and then massive ways.
Hastings College is a private, four-year institution located in Hastings, Nebraska, that focuses on student academic and extracurricular achievement. Hastings College has been named among "Great Schools, Great Prices" by U.S. News & World Report and a "Best in the Midwest" by The Princeton Review. For more, go to hastings.edu.