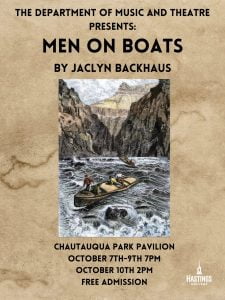 Ten explorers. Four boats. One Grand Canyon. Hastings College Department of Music and Theatre presents "Men on Boats," the true(ish) history of an 1869 expedition, when a one-armed captain and a crew of insane yet loyal volunteers set out to chart the course of the Colorado River.
"Men on Boats," by Jaclyn Backhaus, will be presented at the Chautauqua Park Pavillion and will run October 7, 8 and 9 at 7:00 p.m. and October 10 at 2:00 p.m. The show is free to attend with the option of making a freewill donation.
Chautauqua Park is located on W. 5th Street between N. Laird Avenue and N. Woodland Avenue in Hastings. Additional parking is at the Aquacourt Waterpark at 2200 W. 3rd Street.
The production team, cast and crew are below.
"Men on Boats" by Jaclyn Backhaus
Production
Directed by Sarah Nottage-Tacey, visiting instructor of theatre
Technical Direction by Kathy Turner, visiting instructor of theatre
Sound Direction by Bruce Batterson, associate professor of business administration
Stage Manager – Kai Marshall of Omaha, Nebraska
Assistant Stage Manager – Juno Reece of Westminster, Colorado
Cast
John Wesley Powell – Darci Wax of Colorado Springs, Colorado
William Dunn – Charly Lufkin of Fairybury, Nebraska
John Colton Sumner – Maggie Price of Bellevue, Nebraska
Old Shady – Lindsey Pratt of Denver, Colorado
Bradley – Lolla Baker of Parker, Colorado
O.G. Howland – Hailey Moore of Juniata, Nebraska
Seneca Howland – Aynsley Brink of La Vista, Nebraska
Frank Goodman – Keeley Garland of Superior, Colorado
Hall – Grace Montierth of Providence, Utah
Hawkins – Audrey Weeks of Hastings, Nebraska
Mr. Asa – Tessa Burkey of Dorchester, Nebraska
Water and Rapids – Rachel Radloff of Omaha, Nebraska, and Janison Majors of Superior, Nebraska
Crew
Set Crew Head – Jax Carreras of Parker, Colorado
Chase Rath of Thedford, Nebraska
Kennedy Cool of York, Nebraska
Christian Kehn of Boulder, Nebraska
Chloe Dorenkant of Fremont, Nebraska
Brooke Jorgenson of Orleans, Nebraska
Noah Sullivan of Centennial, Colorado
Max Wagner of Culbertson, Nebraska
Turner Griffin of Grand Island, Nebraska
Costume Crew Head – Rayvonne Wright of Austin, Texas
Audrey Weeks of Hastings, Nebraska
Andrew Harper-Marcel of Omaha, Nebraska
Theo McEntire of Mesa, Arizona
Tessa Burkey of Dorchester, Nebraska
Janison Majors of Superior, Nebraska
Jordan Parker of Omaha, Nebraska
Sound Crew Head – Emma Maline of Bellevue, Nebraska
Hastings College is a four-year residential college that focuses on student academic and extracurricular achievement. Hastings' student-centered initiatives include providing books, an iPad and a two-week study away experience at no additional cost. A block-style semester schedule allows professors and students to focus on fewer classes at a time and promotes hands-on experiences. Discover more at hastings.edu.