The Hastings College Theatre Department is opening up its fall season with the play "Omnium Gatherum" by Theresa Rebeck and Alexandra Gersten-Vassilaros.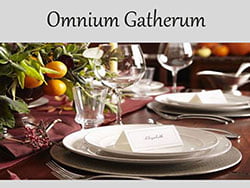 Directed by Associate Professor of Theatre Annette Vargas, Samuel French states "the sophisticated yet surreal dinner party becomes a sounding board for a variety of cultural icons as they pontificate and argue about terrorism, popular culture, food, feminism, Star Trek and more."
The conversation becomes an ultimate ride, veering from comedy to realism then to satire, ultimately ending in utter chaos.
The show runs October 4, 5 and 6 at 7:30 p.m., and October 7 at 2:00 p.m., at the Scott Studio Theatre (806 N. Turner Ave).
This production contains mature language and subject matter.
Tickets available to reserve at tickets@hastings.edu. General admittance is $8.00, seniors and non-Hastings College students are $5.00.
Cast:
Alima (Khalid) —  Darci Wax of Colorado Springs, Colorado

Mohammed —  Tyler Dietrich of Glenwood Springs, Colorado

Suzie —  Kiley Logan of Colorado Springs, Colorado

Lydia —  Kelli Brichacek of Waterloo, Nebraska

Julia —  Kai Marshall of Omaha, Nebraska

Roger —  Basil Rabayda of Phoenix, Arizona

Terence —  Tyler Huntsman of Parker, Colorado

Jeff —  Jeff Sokol of Grand Island, Nebraska
Production staff:
Director — Annette Vargas, associate professor

Assistant Director/Dramaturg —  Amelia Amicarella of Littleton, Colorado

Stage Manager — Carly Cremers of Columbus, Nebraska

Assistant Stage Manager – Liz Lee of Colorado Springs, Colorado

Scenic Crew Head —  Joe Jahn of Columbus, Nebraska, and Joe Daake of Kearney, Nebraska

Crew — Jacqueline Carreras of Parker, Colorado

Lighting Designer —  Austin Heinlein of Hutchinson, Kansas

Crew Head — Greer Andersen of Peyton, Colorado

Crew — Luke Liffengren of Conifer, Colorado, and Melbourne Palmer of Lynchburg, Virginia

Light Board Operator —  Weston Henry Grant of Denver, Colorado

Costume/Make-up/Hair Crew Head — Kylie Lierz of Lincoln, Nebraska, and Rayvonne Wright of Austin, Texas

Crew — Cass Miller of Wheat Ridge, Colorado, and Becky Cox of Blue Hill, Nebraska

Sound Crew – Randi Scoggins of Hastings, Nebraska

Sound Board Operator —  Camrin Cowden of Centennial, Colorado

Properties Crew Head —  Alex Rieflin of Doniphan, Nebraska

Properties Crew —  Whitney Hansen of Kenesaw, Nebraska; Emma Maline of Bellevue, Nebraska; Shailyn Brillon of Wesley Chapel, Florida; and Sarah Sepan of Centennial, Colorado

Box Office/House Manager — Timothy Ellis of Red Cloud, Nebraska
Hastings College is a private, four — year institution located in Hastings, Nebraska, that focuses on student academic and extracurricular achievement. Hastings College has been named among "Great Schools, Great Prices" by U.S. News & World Report and a "Best in the Midwest" by The Princeton Review. For more, go to hastings.edu.