The Hastings College Theatre Department will present its fifth production of the year titled "Crimes of the Heart," by Beth Henley.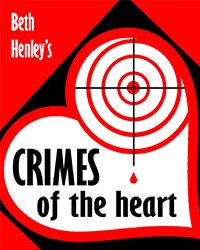 Performances are scheduled for Thursday, April 28; Friday, April 29; and Saturday, April 30 at 7:30 p.m., and Sunday, May 1 at 2:00 p.m. All shows are in the Scott Studio Theatre on campus (806 N. Turner Ave.).
General admission tickets are $7 for adults and $5 for non-Hastings College students and seniors. For reservations, email tickets@hastings.edu.
"Crimes of the Heart" was first presented by the Actors Theatre of Louisville, then Off-Broadway, then on Broadway. It won the 1981 Pulitzer Prize and the New York Drama Critics Circle Award.
Henley's play is warm-hearted, irreverent, zany and brilliantly imaginative; it teems with humanity and humor as it examines the plight of three young Mississippi sisters betrayed by their passions.
CAST
Lenny – Grace Rempp from Hastings, Nebraska
Meg – Hannah Conlon from the United Kingdom
Babe – Sabrina Maxwell from North Richland Hills, Texas
Chick – Carly Cremers from Columbus, Nebraska
Barnette – Alex Rieflin from Doniphan, Nebraska
Doc – Austin Heinlein from Hutchinson, Kansas
CREW
Stage Manager – Randi Scoggins from Grand Island, Nebraska
Assistant Stage Manager – Alyssa Rock from Denver, Colorado
Scenic Build Crew Head – Nate Mohlman from Blue Hill, Nebraska
Crew – Barrett Russell from Saronville, Nebraska
Crew – Intro to Theatre Students
Scenic Charge Artist – Cheyenne Knehans from Riverton, Nebraska
Crew – Scenic Painting Students
Lighting Crew Head – Mason Lindbloom from Hordeville, Nebraska
Crew – James Bachman from Thornton, Colorado
Costume/Make-Up Crew Head – Rebecca Holcomb from Parker, Colorado
Crew – Emma Atuire from Denver, Colorado
Sound Crew Head – Dodge Weishaar from Bison, South Dakota 
Properties Crew Head – Tyler Donovan from Broomfield, Colorado
Crew – Nathanael Sass from Hastings, Nebraska
Box Office/House Manager – Jordan Samuelson from Kearney, Nebraska
Crew – Intro to Theatre Students
Hastings College is a private, four-year institution located in Hastings, Nebraska, that focuses on student academic and extracurricular achievement. With 64 majors and 15 pre-professional programs, Hastings College has been named among "Great Schools, Great Prices" by U.S. News & World Report, a "Best in the Midwest" by The Princeton Review and a "Best Bang for the Buck" school by Washington Monthly. For more, go to hastings.edu.