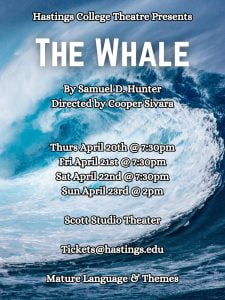 On the outskirts of Mormon Country, Idaho, a 600-pound recluse hides away in his apartment and slowly eats himself to death. Desperate to reconnect with his long-estranged daughter, he reaches out to her, only to find a viciously sharp-tongued and wildly unhappy teen. Big-hearted and fiercely funny, "The Whale," presented by Hastings College Theatre, tells the story of a man's last chance at redemption, and of finding beauty in the most unexpected places.
"The Whale" by Samuel D. Hunter is showing Thursday, Friday and Saturday, April 20-22, at 7:30 p.m., and Sunday, April 23 at 2:00 p.m. in Scott Studio Theater. Note that this production contains mature language and themes.
Tickets are $8 for adults and $5 for seniors and non-Hastings College students, and can be reserved by emailing tickets@hastings.edu. Performances are free to Hastings College students, employees, Crimson Connection members and Bronco Stampede pass holders.
Doors open 30 minutes before each performance. An opening night reception will be held after the Thursday, April 20 performance.
"The Whale" by Samuel D. Hunter

Director
Cooper Sivara, visiting instructor of theatre
Cast
Charlie – Jordan Parker of Omaha, Nebraska
Liz – Keeley Garland of Superior, Colorado
Elder Thomas – Brayden Hicks of Bellevue, Nebraska
Ellie – Max Blankenship of Queen Creek, Arizona
Mary – Savannah Frasier of Limon, Colorado
Crew
Design and Technical Advisor – Kathleen Turner, visiting instructor of theatre
Stage Management Leads – Lindsey Pratt of Denver, Colorado, and Maggie Price of Bellevue, Nebraska
Costume Leads – Hailey Moore of Juniata, Nebraska, and Audrey Weeks of Hastings, Nebraska
Props Leads – Aynsley Brink of Omaha, Nebraska and Ayla Kephart of Chadron, Nebraska
Set Lead – Maddie Kamler of Shickley, Nebraska
Sound Lead – Christian Kehn of Boulder, Colorado
Hair and Makeup Lead – Brooke Jorgenson of Orleans, Nebraska