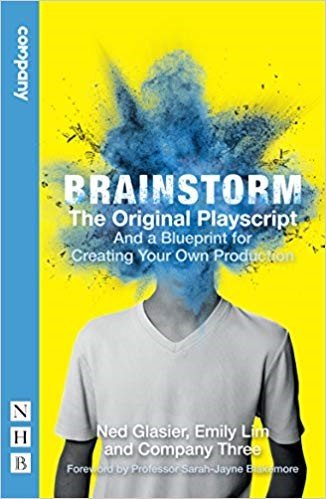 Hastings College Theatre is starting the 2019-20 school year with "Brainstorm" by Ned Glasier, Emily Lim and Company Three. The show runs at Scott Studio Theatre (806 N. Turner Avenue) Thursday through Saturday, October 3, 4, 5, at 7:30 p.m., and Sunday, October 6, at 2:00 p.m.
Inside every adolescent brain, 86 billion neurons connect and collide to produce the most frustrating, chaotic and exhilarating changes that happen to us.
"Brainstorm" is designed to be created by a company of teenagers, drawing directly on their personal experiences. "Brainstorm" provides an intimate and interactive portrayal of what it means to grow up.
Ticket prices are $8 for adults and $5 for seniors and students. The production is free for Hastings College students.
To reserve tickets, email the box office at tickets@hastings.edu.
---
"Brainstorm" by Ned Glasier, Emily Lim and Company Three
Director – Sarah Nottage-Tacey
Cast: 
Tyler Huntsman of Parker, Colorado
Darci Wax of Colorado Springs, Colorado
Luke Liffengren of Conifer, Colorado
Basil Rabayda of Phoenix, Arizona
Kai Marshall of Omaha, Nebraska
Kelli Brichacek of Waterloo, Nebraska
Amelia Amicarella of Littleton, Colorado
Kaely Reece of Westminster, Colorado
Audrey Weeks of Hastings, Nebraska
Jeff Sokol of Grand Island, Nebraska
Stage management team:
Stage Manager – Greer Anderson of Peyton, Colorado
Assistant Stage Manager – Liz Lee of Colorado Springs, Colorado
Scenic:
Scenic Crew Head – Jackie Carreras of Parker, Colorado
Joe Daake of Kearney, Nebraska
Kylie Lierz of Lincoln, Nebraska
Sydnie Waldron of Alliance, Nebraska
Abby Morillon of Cheyenne, Wyoming
Lighting/Projections: 
Lighting/Projections Crew Head – Erik Nielsen, Hastings College staff
Melbourne Palmer of Lynchburg, Virginia
Cass Miller of Wheat Ridge, Colorado
Shailyn Brillon of Wesley Chapel, Florida
Costume/Make-Up:
Costume/Make-Up Crew Head – Rayvonne Wright of Austin, Texas
Keeley Garland of Superior, Colorado
Charly Lufkin of Fairbury, Nebraska
Savanah Ellis of Beaver City, Nebraska
Sound: 
Sound Crew Head – Bruce Batterson, Hastings College faculty
Emma Maline of Bellevue, Nebraska
Mikhala Miller of Peyton, Colorado
Grace Sinsel of York, Nebraska
Properties: 
Props Crew Head – Becky Cox of Blue Hill, Nebraska
Christian Kehn of Boulder, Colorado
Aubree Kramer of Valparaiso, Nebraska
Box Office/House Managers: 
Carly Cremers of Columbus, Nebraska
Kiley Logan of Colorado Springs, Colorado
Nebraska's premier private college, Hastings College is a four-year institution located in Hastings, Nebraska, that focuses on student academic and extracurricular achievement. Hastings College has been named among "Great Schools, Great Prices" by U.S. News & World Report and a "Best in the Midwest" by The Princeton Review. For more, go to hastings.edu.