The Hastings College Theatre Department continues the 2016-17 season with its production of "Eurydice" by Sarah Ruhl. The play reimagines the classic myth of Orpheus through the eyes of its eponymous heroine, Eurydice.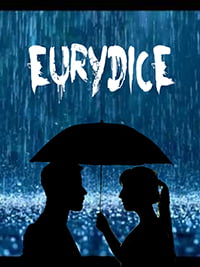 The show will run April 27-30 at the Scott Studio Theatre (806 N. Turner Ave.) with performances at 7:30 p.m. April 27, 28 and 29, and a 2:00 matinee April 30. Tickets are $8 for the public and $5 for seniors and non-HC students.
The show is free for Hastings College students, faculty, staff and Crimson Connection members. Tickets can be reserved in advance by emailing tickets@hastings.edu.
Eurydice
Sarah Ruhl reimagines the classic myth of Orpheus through the eyes of its heroine. Dying too young on her wedding day, Eurydice must journey to the underworld, where she reunites with her father and struggles to remember her lost love. With contemporary characters, ingenious plot twists, and breathtaking visual effects, the play is a fresh look at a timeless love story.
Director
Annette Vargas – Assistant Professor of Theatre
Cast
Eurydice – Maggie Ortiz of Denver, Colorado
Orpheus – Adam Camp of Erie, Colorado
Father – Basil Rabayda of Phoenix, Arizona
Interesting Person/Lord of The Underworld – Emma Atuire of Denver, Colorado
Big Stone – Alex Rieflin of Doniphan, Nebraska
Little Stone – Carly Cremers of Columbus, Nebraska
Loud Stone – Sabrina Maxwell of North Richland Hills, Texas
Crew List
Stage Manager – Grace Rempp of Hastings, Nebraska
Assistant Stage Manager – Greer Anderson of Colorado Springs, Colorado
Scenic Artist – Cheyenne Knehans of Riverton, Nebraska
Lighting Crew Head – Austin Heinlein of Hutchinson, Kansas
Costume/Make-Up Crew Head – Rebecca Holcomb of Parker, Colorado
Sound Crew Head – Randi Scoggins of Grand Island, Nebraska
Crew – Dodge Weishaar of Bison, South Dakota
Crew – Kaitlyn Goligoski of Castle Rock, Colorado
Scenic Crew – Joe Jahn of Columbus Nebraska
Scenic Crew – Nate Mohlman of Blue Hill, Nebraska
Scenic Crew – Joe Daake of Kearney, Nebraska
Properties Crew – Kiley Logan of Colorado Springs, Colorado
Properties Crew – Miranda Aschoff of Hastings, Nebraska
Box Office/House Manager – Alyssa Rock of Denver, Colorado
Hastings College is a private, four-year institution located in Hastings, Nebraska, that focuses on student academic and extracurricular achievement. With 64 majors and 15 pre-professional programs, Hastings College has been named among "Great Schools, Great Prices" by U.S. News & World Report and a "Best in the Midwest" by The Princeton Review. For more, go to hastings.edu.