Hastings College theatre students will join with area actors and alumni to present the fourth annual SummerStage production, "No Mother to Guide Her" by Lillian Mortimer.

Performances of the melodrama are scheduled for Friday, June 10; and Saturday, June 11, at 7:30 p.m.; Sunday, June 12, at 2:00 p.m.; Friday, June 17; and Saturday, June 18, at 7:30 p.m.; and Sunday, June 19, at 2:00 p.m. All shows are in the Scott Studio Theatre on campus (806 N. Turner Ave.).
General admission tickets are $8 for adults and $5 for students and seniors. For reservations, email tickets@hastings.edu.
"No Mother to Guide Her" is a nineteenth century American melodrama. The story revolves around a beautiful young girl, Rose, who is being courted by arch criminal John Livingstone. But Rose is secretly married to Livingstone's former partner who is attempting to go straight. Will Rose find out who murdered her dear father? Will Ralph ever get his true love? Will Livingstone ever get what's coming to him?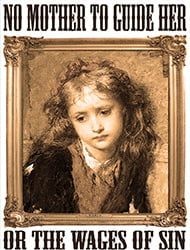 The audience is encouraged to boo the villain, cheer on the hero and throw popcorn as the travails of the heroine unfold in a series of nefarious twists and turns.
Lillian Mortimer, one of the era's most successful female playwrights, was born into a Midwestern theatrical family and starting as a child actress, she later formed her own stock company with her husband, who served as her manager and producer.
Cast members include:
Farmer Day – Rose's father – Barrett Russell of Saronville, Nebraska
Lindy Jane Smithers – in love with Silas – Emily Funkey of Hastings, Nebraska
John Livingstone – a bank robber, the villain – Trevor Pekas of Hastings, Nebraska
Silas Waterbury, the town constable – Alex Rieflin of Doniphan, Nebraska
Mother Tagger – a tool of Livingstone, a villainess – Sarah Nottage-Tacey of Hastings, Nebraska
Rose Day – secretly married to Ralph, the heroine – Jessica Brock of Hastings, Nebraska
Ralph Carlyton – an escaped convict, in love with Rose – Nathanael Sass of Hastings, Nebraska
Bunco – comedy soubrette – Jessie Neuhart of Hastings, Nebraska
Bess Sinclair – a poor shop girl – Grace Rempp of Hastings, Nebraska
Jake Jordan – an escaped convict – Dodge Weishaar of Bison, South Dakota
Parson/Cop – Randi (Miranda) Scoggins of Grand Island, Nebraska
Madame Constable – Cheyenne Knehans of Riverton, Nebraska
Stage Manager – Jordan Samuelson of Kearney, Nebraska
Hastings College is a private, four-year institution located in Hastings, Nebraska, that focuses on student academic and extracurricular achievement. With 64 majors and 15 pre-professional programs, Hastings College has been named among "Great Schools, Great Prices" by U.S. News & World Report, a "Best in the Midwest" by The Princeton Review and a "Best Bang for the Buck" school by Washington Monthly. For more, go to hastings.edu.