At the National Communication Association's 102nd Annual Convention in Philadelphia, one Hastings College student received a top award for a research paper, another was elected to a national advisory board and a professor was named national advisor of the year.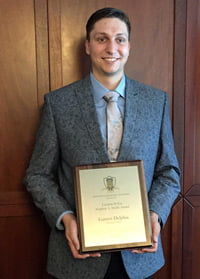 Garrett Delphia, a senior from Highlands Ranch, Colorado, was selected to receive the Steven A. Smith Award for presenting the top Lambda Pi Eta research paper, the first time a Hastings student has received the honor. Lambda Pi Eta is the National Communication Association's honor society.
Chosen from a pool of national submissions, Delphia's paper was one of six presented in the category at the convention. Delphia, who is double majoring in communication studies and marketing, presented his original research project titled "Communication in Action through Organizational Assimilation," after which he was awarded the highest honor.
"The project started as an internship for Dr. John Perlich and became my final paper for my 'Research Methods and Communication Theory' class," Delphia said. His research project was a mixed-method case study of a corporation in Omaha, Nebraska.
The Steven A. Smith award is presented to one undergraduate researcher in the country each year. Delphia is also co-president of Phi Omega, the Hastings College chapter of Lambda Pi Eta.
"I'm very proud of Garrett," said Perlich, a communication studies professor at Hastings College. "He's a hard-worker and deserves to be recognized. His research demonstrates the rigor of both our program and the College."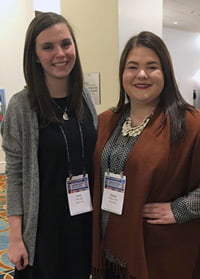 Kenzie Shofner, a junior from Maple Plain, Minnesota, was elected to one of three positions on the national Student Advisory Board for Lambda Pi Eta during the convention. There are 503 active chapters of this academic honorary around the nation.
Shofner is taking the place of another Hastings College student, Anna Griggs, on the board. Griggs is a senior communication studies major from Centennial, Colorado.
In addition to being selected as a national representative, Shofner, who is treasurer of Phi Omega, presented her position statement in the panel, "'A is for Average?' Establishing Valid Criteria for Academic Honors in an Age of Grade Inflation."
Also at the convention, Dr. John Perlich was selected as the Thomas L. Veenendall Advisor of the Year, the second time he has received the honor.
The award recognizes the advisor who provided exemplary contributions of time, energy and service to the student members of Lambda Pi Eta and the national organization. Perlich has been the advisor of Phi Omega since the charter was granted in 2007.
"This is an unbelievable honor," Perlich said, "I'm lucky to work with such remarkable students, and must thank my colleagues who are equally deserving of the recognition."
Perlich previously received the award in 2012. He also serves as one of five members elected to the National Advisory Board for Lambda Pi Eta.
Hastings College is a private, four-year institution located in Hastings, Nebraska, that focuses on student academic and extracurricular achievement. With 64 majors and 15 pre-professional programs, Hastings College has been named among "Great Schools, Great Prices" by U.S. News & World Report and a "Best in the Midwest" by The Princeton Review. For more, go to hastings.edu.