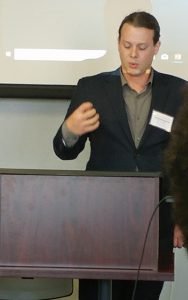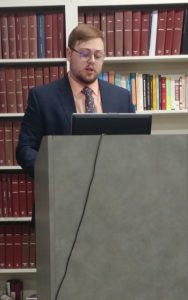 Two Hastings College students traveled to Texas to present their research at the 10th Annual Texas A&M History Conference. The conference, which was held April 12-13, featured graduate and undergraduate work from a variety of institutions that all fell into the theme "Resistance in Retrospect."
The conference strived to create a culture of scholarly discussion on resistance in its various forms such as armed resistance against central authority, political activism, engagement of public discourse and/or popular memory.
"Austin and James held their own with undergraduates from colleges across the nation, which is always a kind of validation for the students and the Hastings College program.  They were able to discuss research and career paths with those students, as well as learn about graduate school possibilities from the A&M faculty," said Dr. Rob Babcock, professor of history at Hastings College.
Ryan Smolko '18, a participant in a previous conference, is now a master's student at Texas A&M.
Hastings College students who presented are:
Austin Heinlein of Hutchinson, Kansas, presented "The National Education System and its Integration with Mythology and the Inadvertent Push of Anti-Westernization."
James Lapka of Hastings, Nebraska, presented "The Alien and Sedition Acts as Resistance and Models for Resistance to the Federal Government."
Hastings College is a private, four-year institution located in Hastings, Nebraska, that focuses on student academic and extracurricular achievement. Hastings College has been named among "Great Schools, Great Prices" by U.S. News & World Report and a "Best in the Midwest" by The Princeton Review. For more, go to hastings.edu.