Hastings College Theatre will present its 2019 Capstones, productions directed and designed by senior theatre majors, Thursday, Friday and Saturday, March 7-9 at 7:30 p.m., and Sunday, March 10 at 2:00 p.m.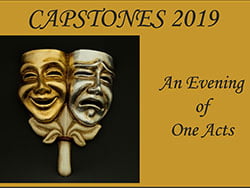 All performances will be in Scott Studio Theatre (806 N. Turner Ave.). General admission tickets are $8, admission for seniors and non-HC students is $5. To reserve tickets, email the box office at tickets@hastings.edu.
Directed and designed by Hastings College students in senior year, these one-act plays allow students to demonstrate their knowledge from classwork and previous productions and are a requirement for graduation.
Productions this year include "A Game" directed by Alex Rieflin, a senior from Doniphan, Nebraska, and "Swagger" directed by  Austin Heinlein, a senior from Hutchinson, Kansas.
2019 Capstone Cast and Crew List
A Game
Director – Alex Rieflin of Doniphan, Nebraska
Stage Manager – Becky Cox of Blue Hill, Nebraska
Dr. Henning – Kiley Logan of Colorado Springs, Colorado
Baker – Basil Rabayda of Phoenix, Arizona
Carter – Jeff Sokol of Grand Island, Nebraska
Edson – Sabrina Maxwell of North Richland Hills, Texas
Swagger
Director – Austin Heinlein of Hutchinson, Kansas
Stage Manager – Liz Lee of Colorado Springs, Colorado
Daniel – Derek Monie of Arapahoe, Nebraska
Leela – Shailyn Brillon of Wesley Chapel, Florida
Crew for both shows
Scenic Crew Head – Joe Daake of Kearney, Nebraska
Scenic Crew– Camrin Cowdin of Centennial, Colorado; Tyler Dietrich of Glenwood Springs, Colorado; Josh Menze of Hastings, Nebraska; and Jeff Sokol of Grand Island, Nebraska
Lighting Crew Head – Jacqueline Carreras of Parker, Colorado
Lighting Crew – Kai Marshall of Omaha, Nebraska; Tyler Huntsman of Parker Colorado; Luke Liffengren of Conifer, Colorado; and Melbourne Palmer of Lynchburg, Virginia
Costume Crew Head – Rayvonne Wright of Austin, Texas
Make-up Crew Head – Kylie Lierz of Lincoln, Nebraska
Sound Crew Head – Emma Maline of Bellevue, Nebraska
Props Crew Head – Greer Anderson of Peyton, Colorado
Props Crew – Aubree Kramer of Valparaiso, Nebraska
Fight Director – Dr. Kara Wooten, assistant professor of theatre
Fight Assistant – Cass Miller of Wheat Ridge, Colorado
Box Office/House Manager – Kelli Brichacek of Waterloo, Nebraska
Hastings College is a private, four-year institution located in Hastings, Nebraska, that focuses on student academic and extracurricular achievement. Hastings College has been named among "Great Schools, Great Prices" by U.S. News & World Report and a "Best in the Midwest" by The Princeton Review. For more, go to hastings.edu.