The Hastings College Department of Theatre will present Capstones 2017: An Evening of Student Directed and Designed One-Acts, on Thursday, March 9; Friday, March 10, and Saturday, March 11 at 7:30 p.m.; and Sunday, March 12 at 2:00 p.m.
All performances will be in the Scott Studio Theatre (806 N. Turner Ave.). General admission tickets are $8, admission for seniors and non-HC students is $5. To reserve tickets, email the box office at tickets@hastings.edu.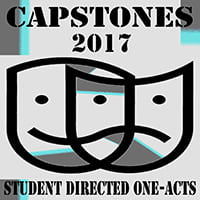 Directed and designed by Hastings College students in their junior or senior years, these one-act plays allow students to demonstrate their knowledge from classwork and previous productions and are a requirement for graduation.
For Capstones 2017, Jordan Samuelson a junior from Kearney, Nebraska, will direct "Line" by Israel Horovitz, and Dodge Weishaar, a junior from Bison, South Dakota, will direct "My Next Husband will be a Beauty" by Tom Eyen.
These plays contain mature subject matter.
Capstones 2017: An Evening of Student Directed and Designed One-Acts
LINE – By Israel Horovitz
Directed by – Jordan Samuelson of Kearney, Nebraska
Stage Manager – Liz Hartman of Hastings, Nebraska
Stephen – Adam Camp of Erie, Colorado
Fleming – Caylan Hirschman of Norfolk, Nebraska
Molly – Maggie Ortiz of Denver, Colorado
Arnall – Alex Rieflin of Doniphan, Nebraska
Dolan – Dillon Beede of Hastings, Nebraska
MY NEXT HUSBAND WILL BE A BEAUTY! – By Tom Eyen
Directed by – Dodge Weishaar of Bison, South Dakota
Stage Manager – Cheyenne Knehans of Riverton, Nebraska
Henry – Basil Rabayda of Phoenix, Arizona
Henrietta – Alyssa Rock of Denver, Colorado
Virginia – Carly Cremers of Columbus, Nebraska
Boy – Jeff Burke of Forsyth, Georgia
STAFF
Scenic and Properties Designer – Barrett Russell of Saronville, Nebraska
Lighting Designer – Austin Heinlein of Hutchinson, Kansas
Costume, Hari and Makeup Designer – Rebecca Holcomb of Burr Ridge, Illinois
Properties – Miranda Aschoff of Hastings, Nebraska
Box Office Manager – Emma Attuire of Denver, Colorado
Hastings College is a private, four-year institution located in Hastings, Nebraska, that focuses on student academic and extracurricular achievement. With 64 majors and 15 pre-professional programs, Hastings College has been named among "Great Schools, Great Prices" by U.S. News & World Report and a "Best in the Midwest" by The Princeton Review. For more, go to hastings.edu.