From communication studies to publishing to graphic design, students and faculty from several departments at Hastings College worked together to create a "Faces of Hastings" exhibit that aims to build cultural bridges across the community.
The exhibition, which includes large posters featuring short stories about people from the Hastings area, an interactive feature that allows guests to become part of the exhibit and a book available for purchase online, opens at Hastings Museum on Friday, May 3, with a reception from 5:00 to 7:00 p.m.
The reception is free and open to the public as part of the Museum's Free First Friday program. Following the opening reception, the exhibition will be open regular Museum hours through June 2, and require Museum admission or membership. (Click to visit the Museum's website.)
In addition to involving more than 50 Hastings College students, the project is a collaboration with Hastings Museum, Hastings Multicultural Association, Center for Rural Affairs, YWCA of Adams County and the Adams County Historical Society. Funding for the project was provided, in part, by the Hastings Community Foundation. Dr. Jessica Henry, professor of Communication Studies at Hastings College, is the project's director.
About 'Faces of Hastings'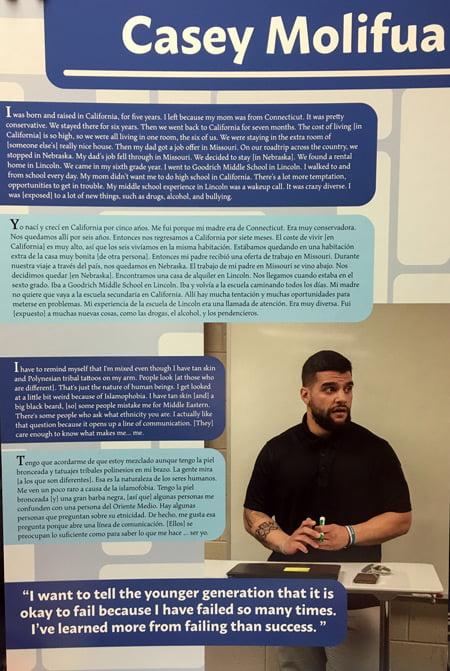 "Faces of Hastings" was inspired by "Faces of Change," a project that began in 2003 in Pelican Rapids, Minnesota. The town was becoming more diverse with immigrants moving to the area to work in a turkey processing plant. The director of the public library wanted to "bridge the chasm created by language and culture" and created the project, which resulted in a museum exhibit and book.
For the Hastings version, 35 Hastings College students from three different classes conducted a series of oral history interviews with culturally diverse Hastings residents. After transcribing the interviews, students created stories depicting people's lives in Hastings.
A portion of the stories, including translations done by advanced Spanish students at the College, and photographs of the interviewees, were used by Hastings College design students to create a high-quality poster exhibit.
An interactive portion of the exhibit allows guests to photograph themselves with a Polaroid and then post the photos with brief stories about their lives, adding even more diversity to the "Faces of Hastings."
The Hastings College Press published the stories and photographs in a book that was edited by students in January. Copies of the book will be given to each person interviewed, libraries, historical associations and will be sold on Amazon and Barnes & Noble later this month.
After the exhibit concludes, Hastings College will offer the display to other museums, historical societies and similar organizations.
Hastings College is a private, four-year institution located in Hastings, Nebraska, that focuses on student academic and extracurricular achievement. Hastings College has been named among "Great Schools, Great Prices" by U.S. News & World Report and a "Best in the Midwest" by The Princeton Review. For more, go to hastings.edu.