Hastings College student Suzette Escamilla Morales has been awarded a Boren Scholarship to study in India during the 2016-17 academic year.

Escamilla Morales career goals, desire to study languages and willingness to spend an extended period out of the country made her eligible for the David L. Boren Scholarship, which is sponsored by the National Security Education Program (NSEP). NESP is a major federal initiative designed to build a broader and more qualified pool of U.S. citizens with foreign language and international skills.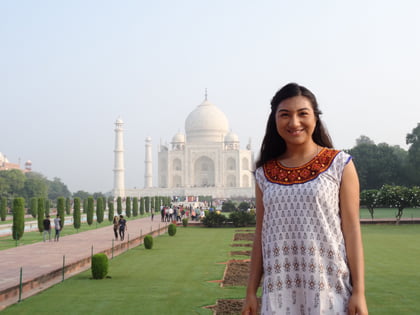 She will study the Hindi language at the University of Wisconsin–Madison this summer while prepping for her year abroad. For the fall semester she will study Hindi in Jaipur, India. For the spring 2017 semester, she will take political science, economics and Hindi language courses in Hyderabad, India. The spring program may also include volunteer opportunities in the Hyderabad area.
"I am hoping to learn Hindi and gain an incredible knowledge of the Indian culture," Escamilla Morales said. "During the year abroad, I hope to broaden my view of the world and gain real life experience that will greatly assist me in my career."
The process for the Hastings-native and St. Cecilia High School graduate was lengthy – involving two detailed essays, multiple letters of recommendation, a willingness to work in government service after graduation and building an argument for why studying languages in India would be applicable to national security. The hard work paid off, though: Out of 820 applications submitted for a Boren Scholarship, Escamilla Morales was one of 160 recipients.
The scholarship will pay travel, tuition, room and board and other expense, allowing her to study in India during the entire 2016-17 academic year.
Boren Awards provide U.S. undergraduate and graduate students with resources and encouragement to acquire language skills and experience in countries critical to the future security and stability of the United States. In exchange for funding, Boren award recipients agree to work in the federal government for a period of at least one year.
"The National Security Education Program is helping change the U.S. higher education system and the way Americans approach the study of foreign languages and cultures," said NSEP Director Dr. Michael A. Nugent.
In total during the coming year, Boren Scholars and Fellows (students in graduate programs) will live in 41 countries throughout Africa, Asia, Central and Eastern Europe, Eurasia, Latin America and the Middle East. They will study 36 different languages.
"To continue to play a leadership role in the world, it is vital that America's future leaders have a deep understanding of the rest of the world," said University of Oklahoma President David Boren, who as a U.S. Senator was the principal author of the legislation that created the NSEP and the scholarships and fellowships that bear his name. "As we seek to lead through partnerships, understanding of other cultures and languages is absolutely essential."
Since 1994, more than 5,500 students have received Boren Awards. Boren Scholars and Fellows represent a vital pool of highly motivated individuals who wish to work in the federal national security arena, and program alumni are contributing to the critical missions of agencies throughout the federal government.
Hastings College is a private, four-year institution located in Hastings, Nebraska, that focuses on student academic and extracurricular achievement. With 64 majors and 15 pre-professional programs, Hastings College has been named among "Great Schools, Great Prices" by U.S. News & World Report, a "Best in the Midwest" by The Princeton Review and a "Best Bang for the Buck" school by Washington Monthly. For more, go to hastings.edu.