Hastings College was honored recently with a 2020 Tree Campus Higher Education designation by the Arbor Day Foundation for its commitment to effective urban forest management.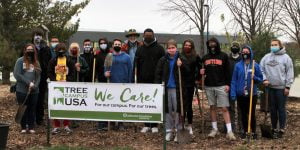 Hastings College has been designated a Tree Campus for many years by consistently exceeding the standards set by the Arbor Day Foundation, including maintaining a tree advisory committee, a campus tree-care plan, dedicated annual expenditures for its campus tree program, an Arbor Day observance and student service-learning project.
"Being recognized for our commitment to creating a healthy and beautiful campus environment is always an honor," said Dr. Will Locke '61, professor of emeritus of teacher education. "Just recently we had a group of students come together to plant 13 trees as part of a campus clean-up service project and Arbor Day observance. Most of the trees came from the Hastings College tree nursery that students help maintain. I'm so proud of the service hours like this completed by our students, as they support the work of our maintenance staff and volunteers who care for our trees and other landscape features across our 120 beautiful acres that are part of the Hastings College Arboretum."
The Tree Campus Higher Education program honors colleges and universities for effective campus forest management and engaging staff and students in conservation goals. There are 403 campuses across the United States with this recognition.
"Tree Campuses and their students set examples for not only their student bodies but the surrounding communities showcasing how trees create a healthier environment," said Dan Lambe, president of the Arbor Day Foundation. "Because of Hastings College's participation, air will be purer, water cleaner and students and faculty will be surrounded by the shade and beauty trees provide."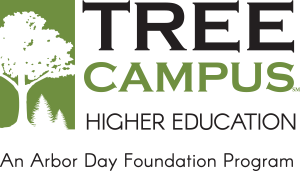 The Arbor Day Foundation has helped campuses throughout the country plant thousands of trees. Tree Campus Higher Education colleges and universities invested more than $51 million in campus forest management last year. This work directly supports the Arbor Day Foundation's Time for Trees initiative — an unprecedented effort to plant 100 million trees in forests and communities and inspire 5 million tree planters by 2022. Last year, Tree Campus Higher Education schools collectively planted 39,178 trees and engaged 81,535 tree planters — helping us work toward these goals.
More information about the program is available at treecampushighered.org.
Hastings College is a four-year residential college that focuses on student academic and extracurricular achievement. Hastings' student-centered initiatives include providing books, an iPad and a two-week study away experience at no additional cost. A block-style semester schedule allows professors and students to focus on fewer classes at a time and promotes hands-on experiences. Discover more at hastings.edu.