Hastings College was awarded the Nebraska Statewide Arboretum's Affiliate Excellence Award in Lincoln November 5.
The award recognizes excellence in plant collection diversity, maintenance practices and community engagement. Hastings College is known for the high-quality, innovative methods it uses to educate students, and even the campus landscape has been developed as a teaching and learning tool for students and visitors.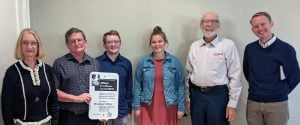 Stately trees in the lawns along Turner Avenue welcome visitors to the campus. They have been backed up in recent years by plantings that expand tree diversity and canopy across the campus. Through efforts led by facilities manager Paul Dooley and emeritus professor and active volunteer Dr. Will Locke, hundreds of trees and shrubs have been planted and labeled. These trees provide beauty, shade, comfort and a way for students and campus visitors to learn about the natural world around them.
Another special feature of campus is the bioretention gardens planted near the Morrison-Reeves Science Center. These gardens help capture and filter stormwater runoff and have a wide variety of native prairie plants, putting on a dynamic show of form, color and texture throughout the seasons. These incredibly diverse gardens are teeming with insects, birds and other wildlife and are an important pollen and nectar source for campus honeybees.
Hastings College students have been involved in all aspects of planning, planting and care of the landscape, providing hands-on experience to back up the curriculum and giving them ownership in the campus and the community. The campus has been an accredited arboretum since 1997 and has influenced the development of other landscapes and parks in surrounding areas.
Hastings College is a four-year residential college that focuses on student academic and extracurricular achievement. Hastings' student-centered initiatives include providing books, an iPad and a two-week study away experience at no additional cost. A block-style semester schedule allows professors and students to focus on fewer classes at a time and promotes hands-on experiences. Discover more at hastings.edu.