On September 13, 1882, the formal opening of Hastings College took place at a chapel service in the First Presbyterian Church of Hastings. The College convened its first classes that day in the Chilcothe Building, which stood on the corner of First Street and Hastings Avenue in downtown Hastings. Forty-four students climbed the stairs to the six rented rooms on the second floor, and the first year was underway.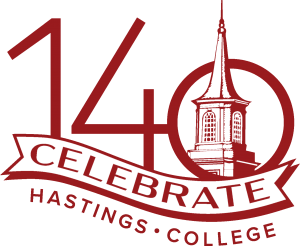 Classes were held at that location for two years, as the transformation of prairie to college campus was underway with the construction of McCormick Hall and the planting of thousands of trees by the citizens of Hastings in support of the transformation.
"It's now 140 years later, and we're blessed to continue the dreams of those early founders, to walk the campus they built, and thank the generations of community members, students and alumni who have supported this exceptional place on the prairie all these years," said Dr. Rich Lloyd, executive president of Hastings College.
Classes for the 140th year of Hastings College begin Wednesday, August 17. With residence halls near capacity, campus will bear some semblance to the fall of 2019, the pre-pandemic fall when the College embarked on a bold path of launching a block-style semester schedule and providing iPads, textbooks and a travel experience for all students.
"We continue to successfully navigate through the pandemic and are very glad to see the smiling faces of all our students and employees at the start of the year," Lloyd said. "We're also sending some 75 students this week on their EXPL travel course, with more than 50 of those traveling internationally. It's an exciting time to be at Hastings College."
Students on international EXPL courses are traveling to Peru, Scotland and Serbia, while those in domestic EXPL classes are exploring National Parks in Colorado and Utah, and traveling across several southern states to study the history of the Civil Rights Movement in America. After two years of delayed travel, 17 students kicked off the new year by taking their EXPL course in June, traveling to France. More students are scheduled to travel this fall to Ireland, and then in March 2023 to Honduras, Japan, Spain and France.
Several events are planned to celebrate the College's 140th year, including special activities for students on Founder's Day — September 13. A Business After Hours on Thursday, September 22, in the Barrett Alumni Center from 4:00 to 7:00 p.m. will include recognition by the Hastings Chamber of Commerce, with Homecoming events to follow September 23-24. Details on Homecoming can be found at hastings.edu/homecoming.
Hastings College is a four-year residential college that focuses on student academic and extracurricular achievement. Discover more at hastings.edu.