Hastings College is one of the country's best national baccalaureate universities, ranking in the top 30, and is in the top 20 for having graduates complete their degree and go on to earn a PhD, according to the 2018 Washington Monthly College Guide and Rankings.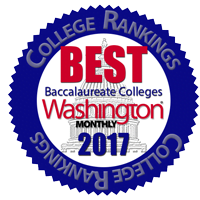 Washington Monthly rates colleges and universities based on their contribution to the public good in three broad categories:
Social mobility — recruiting and graduating low-income students;
Research — producing cutting-edge scholarship and PhDs; and
Service — encouraging students to give something back to their country.
Hastings College has consistently ranked in the top 30 and is highest ranked Nebraska school on the baccalaureate list.
"It's rewarding to see Hastings College and its students, faculty and staff recognized for the good they create in the world," said Hastings College President Dr. Travis Feezell. "Making a difference through service begins when students first arrive on campus for New Student Days and continues throughout their collegiate career through class projects and service works completed by numerous student groups. It's part of our DNA, and one of the special things we do so well."
Hastings College is also on Washington Monthly's "Best Bang for the Buck" list for schools in the Midwest. Schools on this list are noted for helping students attain marketable degrees at affordable prices.
Separately, Hastings College continues to be included on lists of top schools in the Midwest by Forbes and the Princeton Review.
Hastings College is a private, four-year institution located in Hastings, Nebraska, that focuses on student academic and extracurricular achievement. With more than 60 majors and 15 pre-professional programs, Hastings College has been named among "Great Schools, Great Prices" by U.S. News & World Report and a "Best in the Midwest" by The Princeton Review. For more, go to hastings.edu.