Hastings College ranked 28th on Washington Monthly's list of Top 100 Baccalaureate Colleges for 2016.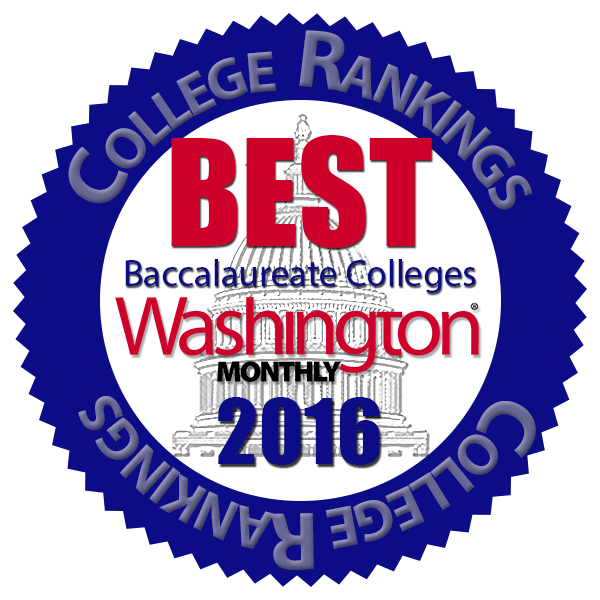 The ranking is based on an 11-year system employed by Washington Monthly with the purpose of ranking higher learning institutions while focusing less on wealth, fame and exclusivity, and more on how that institution contributes to the nation as a whole. Washington Monthly's signature rating reflects data gathered in three main areas: social mobility, research and service.
Hastings College excelled most notably in service, ranking 18th in community service, nearly 50 points ahead in this category over the top ranked baccalaureate college. The community service ranking combines the percentage of students doing community service with the total hours of service performed, relative of the school's size.
"It's great to see Hastings College rank so highly for service, especially because our staff, faculty and students emphasize this area," said Hastings College President Don Jackson '70. "Participating in community service at Hastings College starts early as new students participate in the first-year service learning project. They continue giving back to the community throughout their collegiate careers and even long after graduation."
Hastings College also ranked high in graduation rate (29th), students who receive a bachelor's degree and go on to earn a PhD (26th) and number of alumni who serve in the Peace Corps (23rd).
Hastings College is a private, four-year institution located in Hastings, Nebraska, that focuses on student academic and extracurricular achievement. With 64 majors and 15 pre-professional programs, Hastings College has been named among "Great Schools, Great Prices" by U.S. News & World Report and a "Best in the Midwest" by The Princeton Review. For more, go to hastings.edu.