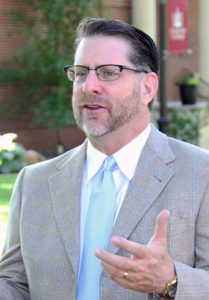 At its late-April meeting, the Hastings College Board of Trustees unanimously approved a new four-year contract with Hastings College President Dr. Travis Feezell, and appointed Dr. Barbara Sunderman the Vice President for Academic Affairs, a position she has held on an interim basis since August 2018.
Feezell was named the 17th President of the College in November 2016 and officially began in that role in June 2017. Since then, Hastings College has moved through a visioning process and announced significant new initiatives that launch fully in the fall.
"When Dr. Feezell was appointed President of the College, he was charged with moving the College in a direction that meets future students' needs and creating an innovative and bold new path forward," said Glen A. Moss, chair of the Hastings College Board of Trustees. "The Board encouraged Dr. Feezell to move quickly, and we fully support the pace of change and the direction he is leading the College. We are excited to see implemented what is known as 'Hastings 2.0' beginning this fall. The initiatives, from travel to technology to an innovative academic plan, are creative, bold and exactly the direction we need to go as an institution."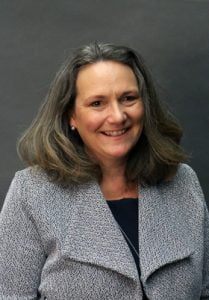 Moss said buy-in by the entire faculty and administration was essential and a team effort. "To be honest, boards don't always like to move this swiftly, but in this case we did, and the Hastings College Board of Trustees recognizes that everyone on campus has contributed to making such significant progress so quickly."
Sunderman was named Interim Vice President for Academic Affairs and Dean of the Faculty at Hastings College in August 2018, and with Board approval the "interim" portion of the title has been removed.
"Dr. Sunderman has worked tirelessly over the past year in managing not only current academic needs on campus, but working with and supporting faculty and departments across campus as they lay the groundwork for the 'new' Hastings College," Moss said. "The innovation she, Dr. Feezell and all of campus are thoughtfully implementing puts Hastings College in a one-of-a-kind leading position in higher education in the United States. It's remarkable, and the Board is grateful for their work and the work of everyone at the College."
Hastings College is a private, four-year institution located in Hastings, Nebraska, that focuses on student academic and extracurricular achievement. Hastings College has been named among "Great Schools, Great Prices" by U.S. News & World Report and a "Best in the Midwest" by The Princeton Review. For more, go to hastings.edu.