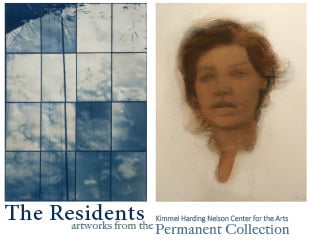 A selection of the permanent collection from the Kimmel Harding Nelson Center for the Arts will be on display at the Hastings College Art Gallery in Hastings, Nebraska, during the months of November and December.
It is the first time that the artworks have been exhibited outside the walls of the Center's home in Nebraska City, Nebraska.
Since 2001, KHN artists-in-residence have donated pieces to the collection, which now stands at more than 300 artworks. The works include a variety of media, including published books, sculptures, videos, paintings, audio recordings and much more. The artists-in-residence are selected through a competitive application process twice a year. Alumni include successful artists, writers, filmmakers and composers from all over the world.
Visitors to The Residents at Hastings College will be excited to see a diverse selection that may inspire and appeal to senses of all kinds.
The Kimmel Harding Nelson Center for the Arts is a program of the Richard P. and Laurine Kimmel Charitable Foundation and is located at 801 Third Corso in Nebraska City.
For more information, visit KHN online or contact Elizabeth Stehling, KHN Program Director, estehling@khncenterforthearts.org or Steve Snell, Hastings College Art Gallery Director, sjsnell@hastings.edu.
Hours: The Hastings College Art Gallery is open Monday through Friday, 10 am to 5 pm and on weekends from Noon to 4 pm. It is located in the Kiewit Building, 710 Turner Ave (map). The exhibit is open to the public Nov. 4 through Dec. 12, 2014.
Opening reception: Monday, Nov. 3, 2014, from 4 to 5 pm; Gallery Talk with Elizabeth Stehling (KHN Program Director) at 4:15 p.m.