As Hastings College wraps up significant investments on campus this summer and prepares to welcome another record number of first-year students to the community, it remains focused on plans for future growth and development.
"The $6 million residence hall projects this summer are the first step in important changes to campus, changes that keep Hastings College competitive and a desirable choice for young people and their families," said Don Jackson, a 1970 Hastings College graduate and President of the College.
Plans for future growth include:
Creating a unified campus through an official campus entrance point on 9th Street between Elm Avenue and Ash Avenue next summer,
Upgrades and expansion within the Art Department,
Building a new residence hall and
An expanded student union that houses an official welcome center, admissions staff and more.
"All of these are investments in the College and community as a whole," Jackson said. "And I don't think I can emphasize enough the importance of the next step, of redeveloping one block of 9th Street, to the overall plan. It will help the College continue to grow, and that has an important economic impact on the entire community."
Closing one block of 9th Street was unanimously approved July 14 by the Hastings City Council, after discussions that began more than four years ago, and becomes effective June 1, 2015. Jackson said converting a block of 9th Street to a pedestrian mall and gathering spot for students, as well as an entrance point that shows off the beauty of campus, allows the College to create the atmosphere students seek in smaller liberal arts colleges.
Unifying the Hastings College campus will create a new center of campus that's flanked by residence halls and the student union.
"It's a sensible way to make a dramatic change to campus. It's an exciting opportunity and will offer students new outdoors space for meeting and will help us present an even more beautiful and open campus to prospective students and those that use our campus during the summer months," Jackson said.
The agreement with the City of Hastings includes that the College:
Construct new off-street parking spaces to make up for those lost by closing 9th Street, work for which is already underway;
Pay for reconstructing 9th Street for two blocks east of the 9th Street and Ash Avenue intersection, and
Bear all costs associated with relocation of utilities required in connection with closing the street, including street lighting.
"These costs are not insignificant, but because we believe strongly in this project and its importance to the long-term growth and success of Hastings College, we are willing to make this investment," Jackson said.
Jackson recognized the change may increase traffic on 7th Street, and said the College will work with the City to develop a sound plan for 7th Street and any changes the City believes are necessary.
"We are thankful that 12th Street between Elm Avenue and 6th Avenue was improved, and that, too, may alter how people drive through this part of Hastings," he said. "Ultimately, we want to be good neighbors and see improvements made to 7th Street should the City believe they are necessary. In the end, closing a block of 9th Street is simply part of a bigger picture for growth and success, for both Hastings College and the community of Hastings."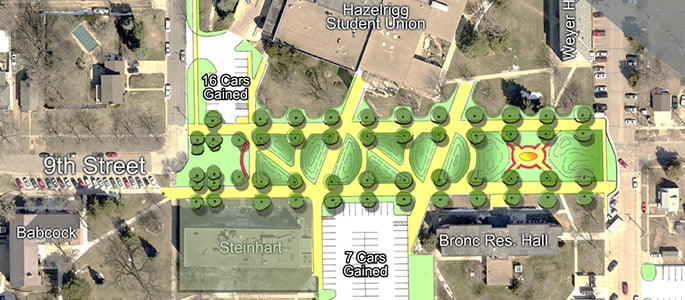 Founded in 1882, Hastings College is a private, four-year liberal arts institution that focuses on student academic and extracurricular achievement. With 60+ majors in 32 areas of study and 12 pre-professional programs, Hastings College has been named among "America's Best National Liberal Arts Colleges" by U.S. News & World Report, a "Best in the Midwest" by The Princeton Review and a "Best Buy in College Education" by Barron's. Visit Hastings.edu for more.