Start celebrating St. Patrick's Day early with Celtic music! The Hastings College Department of Music will host Jill Anderson,as she performs her Celtic Cabaret, a sampling of Irish music, history, poetry, storytelling and humor. The concert is scheduled for Tuesday, March 11 at 7:30 p.m. in Perkins Auditorium in Fuhr Hall (723 E. 9th St.).  The performance is free and open to the public.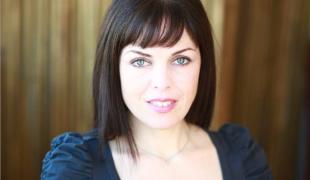 The University of Nebraska-Omaha graduate's Celtic Cabaret is much more than an Irish music concert.  Her work and performance brings Ireland across the sea to envelop the audience and transport them back in time.  Enjoy haunting ballads and stirring anthems; feel the beat of guitar and bodhran drum.  Listen and follow along as Ms. Anderson takes her audience on a musical tour of Ireland.
Ms. Anderson's performance is part of the Lied Center's Arts Across Nebraska, made possible with the support of the Nebraska Arts Council, the Nebraska Cultural Endowment, Friends of Lied, Richard P. Kimmel and Laurine Kimmel Charitable Foundation, and Julie Jacobson in honor of the 12/13 Friends of Lied Executive Committee. Artist transportation is a provided by Sid Dillon.
About Jill Anderson
Jill Anderson is a professional actress, musician and coach.  In her 24-year performing career, she has lived and worked all across the nation—from Chicago, New York and LA to Virginia, Wisconsin and Nebraska.  She has worked for Milwaukee Rep Theatre, Barter Theatre in Virginia, the New York Festival of Song, Opera Omaha, Orlando Philharmonic, The Nebraska Shakespeare Festival, The Blue Barn Theatre and many other organizations.  Ms. Anderson has especially enjoyed performing as Viola in "Twelfth Night," Mrs. Lovett in "Sweeney Todd," Charlotte Bronte in "Bronte," Audrey in "Little Shop of Horrors" and Millie in "Thoroughly Modern Millie."
She currently resides in Omaha, Neb., where she performs frequently in concerts, cabarets, and theater.  She is also active in Omaha as a teacher, choreographer, voice and drama coach, and director along with leading therapeutic music activities and workshops.  Ms. Anderson is also a recording artist with four CDs of Irish folk music to her name.
Audio samples, picture galleries and more information on Ms. Anderson are available at www.RedChairRecords.com.