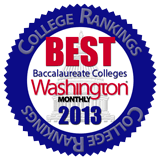 (Hastings, Neb.) – As Hastings College welcomes a record-setting 347 first-year students to classes for the 2013-14 academic year, it's also received gratifying news from Washington Monthly. The publication ranks Hastings College as 14th among 350 Baccalaureate Colleges across the country for recruiting and graduating Pell Grant-eligible students and emphasizing student involvement with community service and service learning.
"We do many things really well at Hastings College, among them helping our students grow their talents through deliberate mentoring and service to the community," said Don Jackson '70, President of Hastings College. "To see our faculty, staff and students recognized for their efforts to make Hastings College a great place to get an education and a great community to belong to as a graduate is outstanding as we start the school year."
Additionally, Hastings College is 23rd in Washington Monthly's first-ever Best Bang for the Buck rankings.
Founded in 1882, Hastings College is a private, four-year liberal arts institution located in Hastings, Nebraska, that focuses on student academic and extracurricular achievement. With 64 majors in 32 areas of study and 12 pre-professional programs, Hastings College has been named among "America's Best National Liberal Arts Colleges" by U.S. News & World Report, a "Best in the Midwest" by The Princeton Review and a "Best Buy in College Education" by Barron's. Visit Hastings.edu for more.