The Hastings College Model United Nations (Model UN) team received the Distinguished Delegation Award at the 2017 National Model UN Conference (NMUN) in New York City. This award is the highest distinction that the team has achieved, having previously been recognized as an Honorable Mention Delegation in 2016.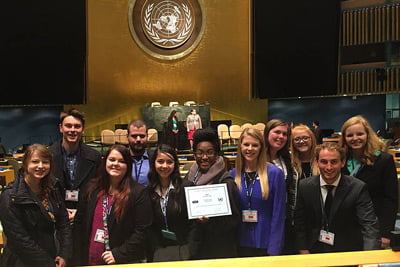 The HC Model UN team represented the Western African country of Niger, spending the months leading up to the conference learning about Niger's government, culture and UN policy priorities. At the NMUN conference, team members engaged in debates and resolution-making while keeping character and advocating Niger's interests. More than 2,500 students from 50 different colleges and universities from around the world participated in this year's conference, the fourth that HC has sent a team to.
Model UN teams are awarded based on their ability to stay in character while representing their assigned countries, participation in committee discussions and proper use of the rules of procedure. Awards are given to only the top 20 percent of delegations.
Head Delegate
Rebecca Riley – Grand Island, Nebraska
Team Members
Caroline Black – Fort Collins, Colorado
Trent Boyer – Gretna, Nebraska
Alexis Ferguson – Centennial, Colorado
Juan Fernandez – Scottsbluff, Nebraska
Stefan Foulke – Ottawa, Kansas
Natalee Hanway – Omaha, Nebraska
Victoria Hervey – Colorado Springs, Colorado
Aika Hughes – York, Nebraska
Kylie Luth – Cairo, Nebraska
Jacob Mounce – Hastings, Nebraska
Taylor Van Pelt – Phillips, Nebraska
Hastings College is a private, four-year institution located in Hastings, Nebraska, that focuses on student academic and extracurricular achievement. With 64 majors and 15 pre-professional programs, Hastings College has been named among "Great Schools, Great Prices" by U.S. News & World Report and a "Best in the Midwest" by The Princeton Review. For more, go to hastings.edu.