The tinkling of piano keys and a warm "Hello. This is Fritz Mountford and The Hastings College Choir" greet listeners to episodes of a Hastings College podcast available on Apple iTunes, Google Play Music and Soundcloud. Each episode features an introduction from Dr. Fritz Mountford, director of choirs, followed by a song previously recorded by the College Choir or a vocal ensemble.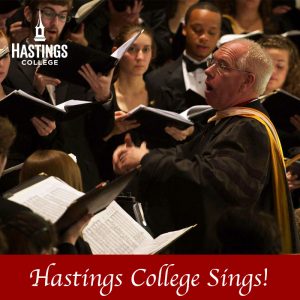 Listeners will also enjoy occasional surprises, such as a version of "The Alma Mater" recorded at an annual joint rehearsal of the Marching Bronco Band and football team.
"With the current state of the world, we wanted to provide people with the opportunity to set aside their worries to enjoy our songs of faith, laughter and love," Mountford said. "We're adding new episodes a couple times a week over the coming weeks and months, so subscribe and enjoy some wonderful music."
With five episodes currently available, episode one features a longer introduction and explanation by Mountford and begins, as The Hastings College Choir has since 1882, with its traditional opening hymn "Fairest Lord Jesus."
Over time, Hastings College Music plans to include selections from the band within the podcast — and other campus sources could add to the mix over time.
"To continue the community that is Hastings College, a podcast to share our student's work and a way for others to enjoy its beauty, it only made sense to take steps now to explore a new medium," said Dr. Louie Eckhardt, Hastings College professor of music and bands and chair of the department.
Hastings College is Nebraska's premier private college. A four-year residential college that focuses on student academic and extracurricular achievement, Hastings' student-centered initiatives include providing books, an iPad and a two-week study away experience at no additional cost. A block-style semester schedule allows professors and students to focus on fewer classes at a time and promotes hands-on experiences. Discover more at hastings.edu.