As Hastings College observed its 137th birthday on September 13, 2019, members of campus and the community gathered to celebrate the re-dedication of the Robert B. Daugherty Student Engagement Center.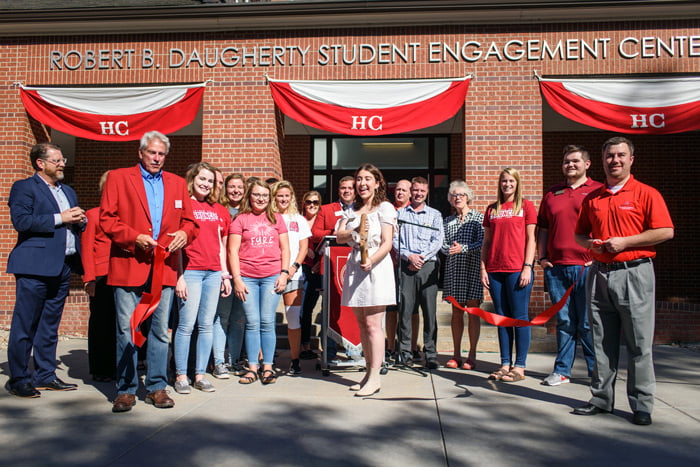 The building had been closed for significant renovations since late May 2018. Over the summer, the Hastings College Admissions and Student Engagement teams began to move in and utilize the new, contemporary space.
With evolving technology, changes in curriculum and opportunities for student travel and new ways to engage, Susan Meeske, executive vice president of Student Engagement, said the college has been committed to looking at these changes through the lens of what's best for students, and the Daugherty Student Engagement Center is the perfect symbol. Meeske said the admissions team serves approximately 2,000 prospective students and their families who visit the campus each year — and all will now begin their time on campus in a space designed specifically for that use.
Mike Karloff, associate vice president of trusts, estates and planned giving with the Hastings College Foundation, thanked all who had a role in the design and architecture of the renovated facilities. He also shared the intentions of giving back to the college by the late Gary Robinson, a 1959 Hastings College graduate who passed away in March 2017.
In conversations that followed with Patsy Robinson, Gary's spouse, Karloff said it was clear that the student engagement focus was well-aligned with the legacy the Robinsons wished to create for the college. One of the first areas visible to those who walk through the doors of the renovated space is the Gary and Patsy Robinson Admission and Welcome Suite.
With the gracious support of numerous donors and a generous anonymous grant, the Daugherty Student Engagement Center is the focal point for student experience on campus, beginning with high school students who visit campus. It's also a consistent resource for current students to be with one another, with the Student Engagement and Vocation and Career Development teams housed in the lower level.
Hastings College President Travis Feezell said the updated facility is a beautiful hub of engagement during a student's years on campus.
"People stop and think, 'We come here for four years, and that's it,'" Feezell said. "But if we do our job right, we engage with students and families for eight years — two years we're talking to high school students and families about coming to this beautiful place; then four years we spend developing and challenging students as they grow; and two years after when they're propelled out into the world. From there, it becomes a lifelong relationship."
Ambassadors from the Hastings Area Chamber of Commerce were on hand as Student Association Vice President Maggie Rogers cut the ribbon to mark the official opening, and Rev. Greg Allen-Pickett, pastor at First Presbyterian Church in Hastings and a member of the Hastings College Board of Trustees, offered words of prayer.
Nebraska's premier private college, Hastings College is a four-year institution located in Hastings, Nebraska, that focuses on student academic and extracurricular achievement. Hastings College has been named among "Great Schools, Great Prices" by U.S. News & World Report and a "Best in the Midwest" by The Princeton Review. For more, go to hastings.edu.