The Nebraska Schools eSports Association (NSeSA) is hosting its fourth annual fall state high school tournament at Hastings College this Friday and Saturday, November 18 and 19.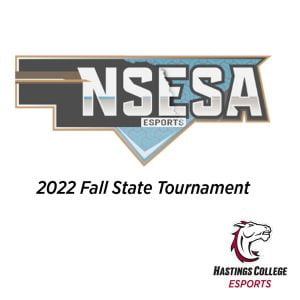 The competition will be held in the Hastings College Esports arena in the Gray Center (1100 N. Elm Avenue). The competition is open to the public at no charge — and matches will be streamed on the both the NSeSA and Hastings College Twitch channels. This is the first state tournament hosted by Hastings College Esports, which began its first full year of collegiate varsity competition this fall.
NSeSA's state competition includes the top four teams for Valorant and Rocket League and top eight Smash Brothers Ultimate players in each of four divisions.
NSeSA has more than 70 schools from across Nebraska competing in various titles multiple times each year. Of those 70 schools, 39 are being represented at the state competition. Division 1 has nine schools, Division 2 has 10 schools, Division 3 has eight and Division 4 has 12 schools.
Divisions one and and two compete Friday, with Division 1 beginning at 9:00 a.m., and Division 2 beginning at 2:30 p.m. The schedule repeats Saturday with Division 3 beginning at 9:00 a.m. and Division 4 at 2:30 p.m. Awards follow each division. The full schedule can be found online. Brackets can be found here.
Valorant is a five-person team game, Rocket League is a three-person team game and Smash Brothers Ultimate is a one-person game.
The schools that are competing at state from each division are included below.
Division 1
Valorant — Omaha Westside, Gretna High School, South Sioux City, Lexington High School
Rocket League — Omaha Westside, Grand Island Senior High, Lincoln East, South Sioux City
Smash Brothers Ultimate — Lincoln East, Bellevue West, Creighton Prep, Gretna High School
Division 2
Valorant — Omaha Gross Catholic, Beatrice, Norris, Platteview
Rocket League — Grand Island Northwest, Waverly, Norris, Seward
Smash Brothers Ultimate — Omaha Skutt Catholic, McCook, Seward, Waverly
Division 3
Valorant — Syracuse, Amherst, David City, Louisville
Rocket League — David City, Syracuse, Kearney Catholic
Smash Brothers Ultimate — Ord, Stanton, Hershey, Louisville, David City, Kearney Catholic
Division 4
Valorant — Pender, Quest Forward Academy (Omaha), Scribner-Snyder, Sumner-Eddyville-Miller
Rocket League — Eustis-Farnam, Sumner-Eddyville-Miller, Franklin, Walthill
Smash Brothers Ultimate — Franklin, Wynot, Elwood, Hay Springs, Alma, Sumner-Eddyville-Miller
NSeSA will have two more state tournaments this year — winter and spring seasons. Each season involves weekly matches with playoffs after.
Hastings College is a four-year residential college that focuses on student academic and extracurricular achievement. Hastings' student-centered initiatives include providing all required textbooks and an iPad, while a block-style semester schedule allows professors and students to focus on fewer classes at a time. Discover more at hastings.edu.