For its commitment to effective urban forest management, Hastings College has been awarded a 2018 Tree Campus USA by the Arbor Day Foundation.
"Tree Campuses and their students set examples for not only their student bodies but the surrounding communities showcasing how trees create a healthier environment," said Dan Lambe, president of the Arbor Day Foundation. "Because of your school's participation air will be purer, water cleaner and your students and faculty will be surrounded by the shade and beauty the trees provide."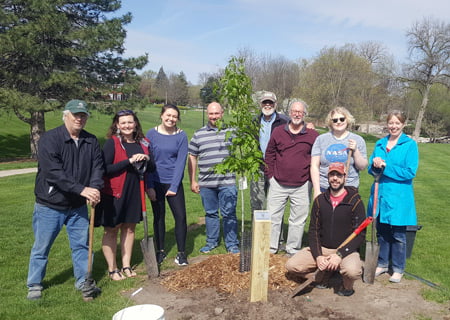 The Tree Campus USA program honors colleges and universities for effective campus forest management and for engaging staff and students in conservation goals. Only 364 campuses across the United States are honored with this recognition.
Hastings College achieved the title by meeting Tree Campus USA's five standards, which include maintaining a tree advisory committee, a campus tree-care plan, dedicated annual expenditures for its campus tree program, an Arbor Day observance and student service-learning project.
To celebrate Arbor Day this year, students, faculty and staff planted a Northern Red Oak southwest of Fuhr Hall on April 26.
On May 14, the College planted a Brandywine Red Maple in memory of 1969 graduate Roger Gipson, and will plant a Japanese Red Maple near Perkins Library in memory of Pam Bohmfalk in the next few weeks.
The Arbor Day Foundation has helped campuses throughout the country plant thousands of trees, and Tree Campus USA colleges and universities invested more than $48 million in campus forest management last year. More information about the program is available at arborday.org/TreeCampusUSA.
Hastings College is a private, four-year institution located in Hastings, Nebraska, that focuses on student academic and extracurricular achievement. Hastings College has been named among "Great Schools, Great Prices" by U.S. News & World Report and a "Best in the Midwest" by The Princeton Review. For more, go to hastings.edu.