Hastings College continues celebrating its 140th year during homecoming festivities this week.
The College is hosting a Business After Hours on Thursday, September 22, in the Barrett Alumni Center from 4:00 to 7:00 p.m. This event will include recognition by the Hastings Chamber of Commerce at 4:45 p.m.
On Saturday, September 23, the alumni band will play beginning at 10:00 a.m. followed by the Marching Bronco Band in front of the Gray Center (1100 N. Elm Avenue), with a mobile coffee trailer on site. The Bronco Tailgate begins at 11:00 a.m. between the Gray Center and Jackson Dinsdale Art Center.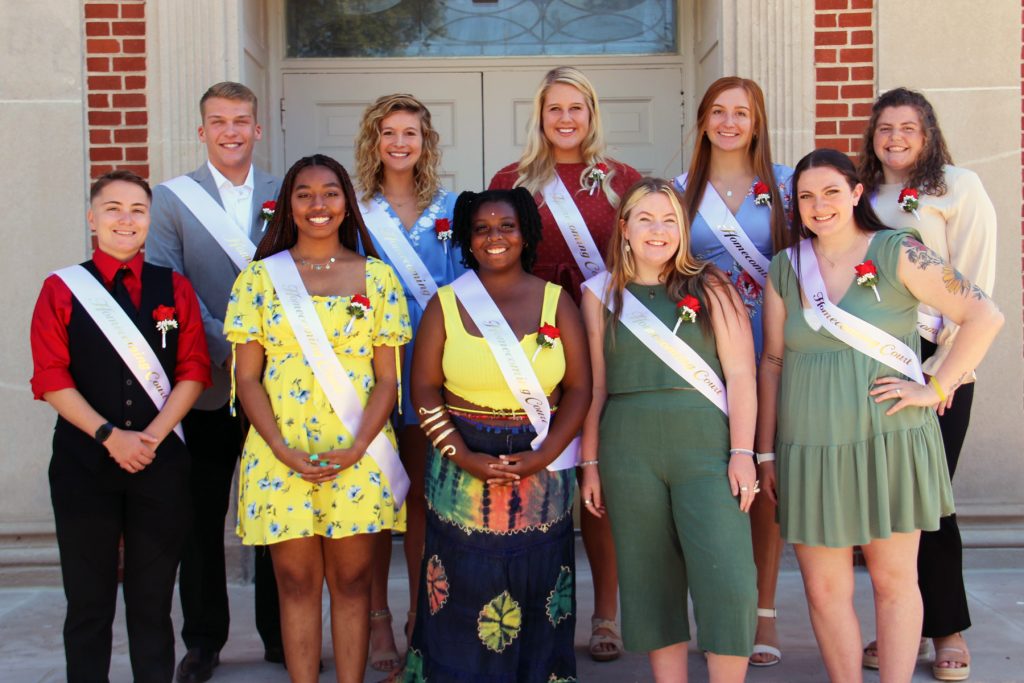 The tailgate features a BBQ lunch catered by Hastings College Dining Services, several food trucks and a variety of yard games and activities. Guests are encouraged to park in the arena/stadium lot.
The Marching Bronco Band will march to the stadium, where Hastings College Broncos football kicks off against Dakota Wesleyan at 1:00 p.m., followed by women's and men's soccer games against Presentation College at 5:30 p.m. and 8:00 p.m., respectively.
Other events over the weekend include fine arts and athletic hall of fame inductions, an all class reunion and Hastings College Sunday at 10:30 a.m. at First Presbyterian Church.
The full homecoming schedule can be found at hastings.edu/homecoming.
Traditional student events and competitions are also underway. ​​Along with the excitement of these homecoming activities, 10 members of the junior class were chosen by the student body for the Homecoming Court. Royalty, the top two vote recipients among members of the court, will be announced during the student Homecoming dinner on Friday evening.
Members of the Homecoming Court include:
Eli Baker, a business administration and finance major from Lincoln, Nebraska, is a Dean's List student, parliamentarian for the Student Association, RA in Babcock Hall and member of HC Republicans.
Ally Banks of Shawnee, Kansas, is an English major and member of the forensics team, where she was presented the Kevin Heineman Outstanding First Year Student Award. She is a Scott Scholar and Student Association executive cabinet secretary.
Ayriel Brown-Love, an exercise science major from Omaha, Nebraska, is vice president of the Student Association. She's also a campus tour guide, RA, CORE 100 facilitator and member of PHIVE-O and the tennis team.
Aislynn Davis of Grand Junction, Colorado, is a criminology major. The Dean's List student is also captain of the bowling team.
Natalia Dick, a psychology major from York, Nebraska, is a member of the women's basketball team and Chi Omega Psi. She is a board member of the enCourage Advocacy Center, mentor for MentoringWorks and on the board for the Association of Student Athletes.
Landry Hinkson, of Bazaar, Kansas, is a communication studies major. She is a member of the cross country and track and field teams, and was named an National All-Academic Cross Country Athlete in 2021. She is a member of Alpha Chi, FCA and CRU, and was named Alpha Chi Outstanding First Year Student and Lambda Pi Eta Outstanding New Communicator. She is head RA in Altman hall and a volunteer at Northshore Church and Youth for Christ. She was also third in last year's Bronco Pageant.
Kendall Greene, a music education major from Colorado Springs, Colorado, is a member of the Hastings College band, choir, choral union, vocal jazz group and handbell choir, as well as the Hastings Symphony Orchestra and First Presbyterian Chancel Handbells. She is a drum major for the Marching Bronco Band, president of NAfME and treasurer of Sigma Alpha Iota.
Allison "Ally" Knowles of Papillion, Nebraska, is a history and secondary education major. She is an officer of the NSEA-Aspiring Educators, member of the Welcome Home committee and was named the Student Association Outstanding Senator last year. This year she is serving as Student Association entertainment chair and secretary of Phi Alpha Theta.
Chloe Tiell, a secondary education major from Littleton, Colorado. This Dean's List student is a group leader of HOPE 120, peer facilitator for CORE 100, campus tour guide, resident assistant and Harvest Fest volunteer. She was also third place in last year's Bronco Pageant.
Majesta Valasek of Broken Bow, Nebraska, is an exercise science major and a member of the volleyball and human performance teams. She's also in FCA, a member of the Association of Student Athletes and volunteers at the YMCA.
Hastings College is a four-year residential college that focuses on student academic and extracurricular achievement. Discover more at hastings.edu.