Six Hastings College history students presented original research at the Phi Alpha Theta Nebraska Regional Conference in Omaha, Nebraska, February 28-March 2. Students who presented their work are members of the Hastings College history honorary society, Phi Alpha Theta.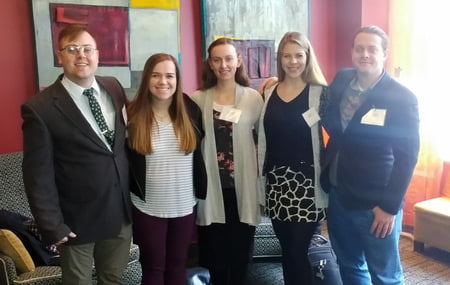 In addition to gaining experience by presenting their work, the conference, which held both undergraduate and graduate sessions, allowed students to network and interact with other students and researchers who are interested in history. It also allowed them to sit in on a number of presentations centered on more than two dozen topics.
Students who presented their research include:
Austin Heinlein, a senior from Hutchinson, Kansas, who presented "Folklore, Traditionalism, Mythology: Their Inclusion in the Education System of a Modern Imperial Japanese State."
James Lapka, a junior from Hastings, Nebraska, who presented "Taming the Orient: 'Homosexuality' and Imperialism."
Kylie Luth, a senior of Grand Island, Nebraska, who presented "Shrunken Heads and Stolen Spirits: Studying the Shuar 1837-1950."
Alyssa Smith, a senior from Hastings, Nebraska, who presented 'Fashion is an Arch Tyrant: How Health, Modesty Standards, and War Changed Women's Clothing from 1895-1925."
William Thompson, a senior from Hastings, Nebraska, who presented "Growing Young Patriots: Appeasing Conservative Criticism for the Nebraska Social Studies Standards, 2012."
Brenna Tripp, a senior from Castle Rock, Colorado, who presented "We Still Believe in Miracles: The Miracle on Ice in the 1980s and after 9/11."
Hastings College is a private, four-year institution located in Hastings, Nebraska, that focuses on student academic and extracurricular achievement. Hastings College has been named among "Great Schools, Great Prices" by U.S. News & World Report and a "Best in the Midwest" by The Princeton Review. For more, go to hastings.edu.