Dr. Oleg Kalinskiy, a 1998 Hastings College graduate who resides in Moscow, Russia, is returning to campus this week to meet with student groups and emeriti faculty, and give a public lecture.
Meetings with student groups will center on global business and politics, while the public lecture is titled "Reflections on the current state and future development of the U.S.-Russian relations."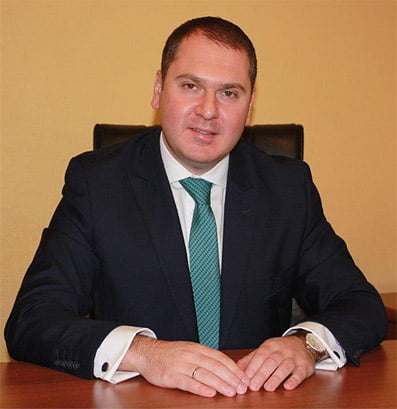 The lecture is scheduled for Thursday, April 12 at 7:00 p.m. in the Fuhr Hall of Music Perkins Auditorium. Kalinskiy will speak for about 15 minutes and then take questions from the audience. It is free and open to the public.
His visit is sponsored by the College and the Pushkin Institute for Russian Language and Culture, which opened at Hastings College last fall and is housed in McCormick Hall.
Kalinskiy, PhD, JD, is currently a Professor of Economics at the National Research Technological University for the Moscow Steel and Alloy Institute, one of Russia's leading engineering schools.
He graduated Summa Cum Laude from Hastings College in 1998. At the time, he was the first Russian student to ever intern at both houses of the U.S. Congress. In 2014, he was a commencement speaker at Hastings College and was awarded the Honorary Degree of Doctor in Laws and the Young Outstanding Alumni Award by the College. Kalinskiy and his wife Maria have two children, Matvey and Paulina, and reside in Moscow.
 
Hastings College is a private, four-year institution located in Hastings, Nebraska, that focuses on student academic and extracurricular achievement. With more than 60 majors and 15 pre-professional programs, Hastings College has been named among "Great Schools, Great Prices" by U.S. News & World Report and a "Best in the Midwest" by The Princeton Review. For more, go to hastings.edu.