Rachel Schmalz, a 2021 Hastings College graduate who majored in history and political science, has received a Fulbright U.S. Student Program award for an English Teaching Assistantship to Moldova for the 2021-22 academic year. Schmalz is from Central City, Colorado.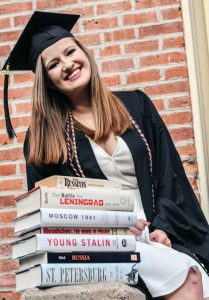 Recipients of Fulbright awards are selected in an open, merit-based competition that considers leadership potential, academic and/or professional achievement and record of service. As Fulbright alumni, their careers are enriched by joining a network of thousands of alumni, many of whom are leaders in their fields. Fulbright alumni include 60 Nobel Prize laureates, 88 Pulitzer Prize recipients and 39 who have served as a head of state or government.
Schmalz said she aims to further her interest and past academic experiences in Eastern Europe through a variety of formal and informal enrichment and cultural programming events as part of her language teaching responsibilities. Classroom teaching, language clubs, coffee hours and further advancing mutual cultural understanding all are part of her goals to impact her students and colleagues learning in Moldova.
"Rachel is a well-travelled student, a diligent scholar and emerging teacher. Both she and her students will benefit tremendously from this opportunity," said Dr. Robert Babcock, Hastings College's Fulbright Program faculty advisor. "She has developed a passion for all things Eastern Europe, and she shares that passion as well as her unapologetic belief in the benefits of studying abroad with anyone who will listen. Her new roles as citizen ambassador and Fulbright U.S. Student Program English Teaching Assistant are a direct result of the experiences she has made for herself at Hastings College, and she will thrive in both. We are very proud of her."
The Fulbright U.S. Student Program is administered at Hastings College in partnership with the Office of International Programs, faculty recommenders and the campus Fulbright program advisers, which includes Babcock, a professor of history, and Grant Hunter, director of international programs. Schmalz joins a group of Hastings College alumni who have been awarded Fulbright Program awards dating back to 1953.
The Fulbright Program is the U.S. government's flagship international educational exchange program and is supported by the people of the United States and partner countries around the world. The Bureau of Educational and Cultural Affairs is pleased to announce that 2021 marks the 75th Anniversary of the Fulbright Program.
Celebrations throughout the year will highlight the impressive accomplishments and legacy of the program and its alumni over its first 75 years, both in the United States and around the world. A dedicated 75th Anniversary website, fulbright75.org, is being updated throughout 2021 to showcase anniversary events and to facilitate ongoing engagement.
Since 1946, the Fulbright Program has provided more than 400,000 participants from over 160 countries the opportunity to study, teach and conduct research, exchange ideas, and contribute to finding solutions to shared international concerns. The primary source of funding for the Fulbright program is an annual appropriation by the U.S. Congress to the U.S. Department of State's Bureau of Educational and Cultural Affairs. Participating governments and host institutions, corporations and foundations in foreign countries and in the United States also provide direct and indirect support.
For further information about the Fulbright Program or the U.S. Department of State, please visit eca.state.gov/fulbright or contact the Bureau of Educational and Cultural Affairs Press Office by telephone 202.632.6452 or e-mail ECA-Press@state.gov.
Hastings College is a four-year residential college that focuses on student academic and extracurricular achievement. Hastings' student-centered initiatives include providing books, an iPad and a two-week study away experience at no additional cost. A block-style semester schedule allows professors and students to focus on fewer classes at a time and promotes hands-on experiences. Discover more at hastings.edu.