Shane Kleier, a 2018 Master of Arts in Teaching graduate from Hastings College, has received a Fulbright U.S. Student Program award to Greece. Kleier, a native of Trumbull, Nebraska, will support the teaching of English at the Hellenic American Education Foundation as part of the Fulbright English Teaching Assistantship program. He will be abroad from September this year through July 2019.
Recipients of Fulbright awards are selected on the basis of academic and professional achievement as well as record of service and leadership potential in their respective fields. The award is managed by the U.S. Department of State and the J. William Fulbright Foreign Scholarship Board.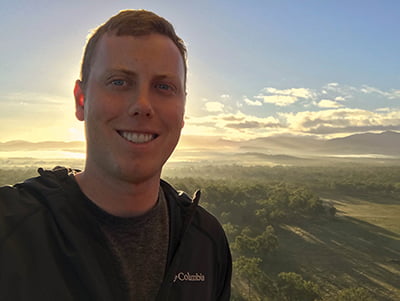 Kleier said he has always had an interest in studying abroad and travel — and it's part of why he came to Hastings College for his graduate program. "When I met with faculty and advisors here, they said I'd have an opportunity to travel during the academic year or do student teaching somewhere abroad," he said. "In the spring semester this year I spent seven weeks student teaching in Canberra, Australia, and it was an amazing experience."
The Fulbright program gives Kleier the ability to pair his love of travel with his love of teaching. "That's what made the the Fulbright program so appealing," he said. "It's the opportunity to fully immerse in a culture and place where English is not the first language, while also working with kids."
After finishing the Fulbright program, Kleier said he plans to return to Nebraska to teach in language arts in an elementary school.
Kleier previously spent a summer in Oxford, England, while getting his undergraduate degree in English Education from the University of Nebraska.
The Fulbright Program is the flagship international educational exchange program sponsored by the U.S. government and is designed to build lasting connections between the people of the United States and the people of other countries. The Fulbright Program is funded through an annual appropriation made by the U.S. Congress to the U.S. Department of State's Bureau of Educational and Cultural Affairs. Participating governments and host institutions, corporations, and foundations around the world also provide direct and indirect support to the Program, which operates in over 160 countries worldwide.
Since its inception in 1946, the Fulbright Program has given more than 370,000 students, scholars, teachers, artists and scientists the opportunity to study, teach and conduct research, exchange ideas, and contribute to finding solutions to shared international concerns.
Fulbrighters address critical global challenges in all areas while building relationships, knowledge, and leadership in support of the long-term interests of the United States.  Fulbright alumni have achieved distinction in many fields, including 57 who have been awarded the Nobel Prize, 82 who have received Pulitzer Prizes, and 37 who have served as a head of state or government.
For further information about the Fulbright Program or the U.S. Department of State, visit eca.state.gov/fulbright.
Hastings College is a private, four-year institution located in Hastings, Nebraska, that focuses on student academic and extracurricular achievement. With 64 majors and 15 pre-professional programs, Hastings College has been named among "Great Schools, Great Prices" by U.S. News & World Report and a "Best in the Midwest" by The Princeton Review. For more, go to hastings.edu.