The Hastings College Foundation Board of Directors has named Chelsea LeMar, a 2007 Hastings College graduate, as executive director of the Hastings College Foundation.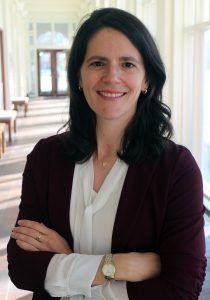 In this role, LeMar will oversee fundraising, advancement and alumni relations activities.
"Chelsea's love of her alma mater and her desire to assist in its future growth is apparent. The Foundation search committee was impressed with her strategic planning experience and her belief that a mission-driven approach is key to maintaining and building relationships and support," said Kim Dinsdale, chair of the Hastings College Foundation Board.
"Hastings College has always held a special place in my heart, and I am proud to be back and in this role," LeMar said. "I believe in the mission of HC, and look forward to working with the Foundation and College faculty and staff, alumni, donors and friends to advance it."
In addition to her undergraduate degree from Hastings College, LeMar earned a Master of Public Administration degree from the London School of Economics and Political Science. She has been an associate vice president in the Hastings College Foundation for the last 10 months, and previously served as executive director of Professional Women in Construction in New York, New York, for seven years. She also has federal government experience from positions with the U.S. Department of Transportation.
Over the coming year, LeMar will report to the Foundation Board and Hastings College Executive President Dr. Rich Lloyd.
LeMar replaces Gary Freeman, who was executive director of the Foundation before leaving in June 2022 for a position with the Suzanne and Walter Scott Foundation in Omaha, Nebraska.
Hastings College is a four-year residential college that focuses on student academic and extracurricular achievement. Hastings' student-centered initiatives include providing all required textbooks and an iPad, while a block-style semester schedule allows professors and students to focus on fewer classes at a time. Discover more at hastings.edu.