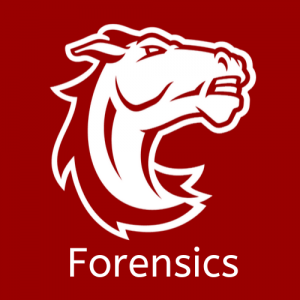 Three Hastings College 2020 graduates submitted works to the National Forensics Association (NFA) Performances of Distinction archive project. Alli Kennon, Jadah Morrison and Nathan Navratil participated in the project and were recognized as Performances of Distinction in one or more events.
The NFA Performances of Distinction archive project was created after national forensics tournaments were canceled due to COVID-19. Senior and first-year students could submit their events for a chance to be honored in an archive, where the events receiving Distinction would be placed for viewing by a wider audience.
The project received 128 video submissions from 21 different schools across the country. The Performances of Distinction were reviewed and selected by a five-person review committee and were found to be the strongest performances in any given event.
The Performances of Distinctions for the Hastings College Forensics team are listed below.
Alli Kennon '20 from Spicer, Minnesota, received Performance of Distinction in Prose Interpretation and Communication Analysis.
Jadah Morrison '20 from Wayzata, Minnesota, received Performance of Distinction in Dramatic Interpretation.
Nathan Navratil '20 from Lino Lakes, Minnesota, received Performance of Distinction in Poetry Interpretation.
The Hastings College forensics team continues a long-running tradition of national competitive success, placing in the top 20 at the American Forensics Association National Individual Events Tournament (AFA-NIET) for many of the past ten years. Most recently, Hastings College placed 8th at AFA-NIET 2018.
Hastings College is Nebraska's premier private college. A four-year residential college that focuses on student academic and extracurricular achievement, Hastings' student-centered initiatives include providing books, an iPad Pro and a two-week study away experience at no additional cost. A block-style semester schedule allows professors and students to focus on fewer classes at a time and promotes hands-on experiences. Discover more at hastings.edu.